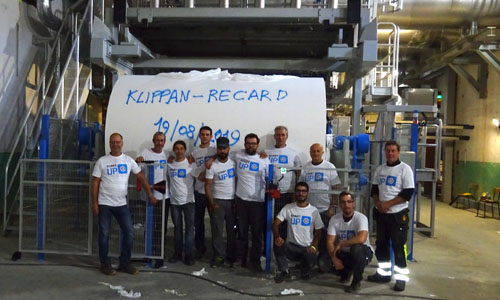 Recard announces the successful start up of PM11, the new plant of Klippan Bruk in Sweden that took place on August 19, 2019.
The new PM increases the annual capacity by 30.000 tonnes of coloured and white high quality tissue.
Recard supplied the client with a Turn Key Project including a Tissue Machine Crescent Former with a maximum operating speed of 1.700 mpm;  trim at reel by 3.200 mm and with a gross production capacity of 110 tpd. Auxiliaries systems serving the machine are duo-system hood, steam and condensate system, vacuum system, mist removal system and dust suction system.
The scope of supply includes a stock preparation system for 100% pre-dried virgin pulp, broke line, approach flow system, fiber recovery system and water distribution. The supply for Klippan Mill comprises also a high performing slitting rewinder with 3 unwind stands.
To complete the Turn Key also the plant electrification have been supplied including mainly MCC, Drives, AC motors and power and signal cables and DCS and QCS are also included in the scope.
Turn Key Recard's Services include full detailed engineering, mechanical erection, supervisions, start up assistance and personnel training.
"This is the 138th start-up for us, – declared Recard's Managing Director, Ing. Riccardo Campo – but the excitement and satisfaction for women and men of Recard seeing the first Jumbo reel made by our tissue machine is always unique. The plant was built with a turnkey contract signed with Klippan Bruk, an historic paper mill that blends well with the tradition of Recard to build unique machinery as each component is designed and built with artisan care to achieve the performance required by the customer".
With Klippan's PM11, continues the series of Recard successful start-up's in which the first reel is perfect and ready to the market.
Recard guarantees high performances, user friendliness and energy saving. The accuracy of the project, the manufacturing quality and the care give to the installation, ensure the respect of all customer's targets.