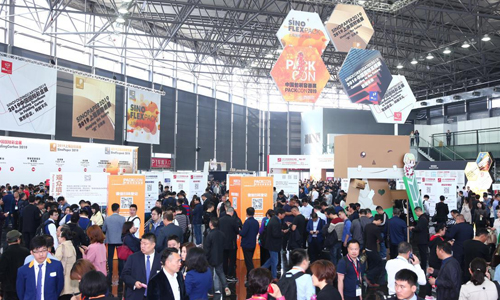 SinoCorrugated South 2020 organized by Reed Exhibitions will take place at Guangdong Modern International Exhibition Center, Guangdong, China on April 9-11, 2020! The show will gather more than 900 well-known domestic and international exhibitors, over 65,000 trade visitors and 200 associations and industry media, showcasing 1,600 high cost-effective equipment, 1,000 kinds of consumables as well as innovative solutions and services. With over 19 years of history, Reed Exhibitions will once again establish a one-stop service platform for knowledge exchange, procurement, business matching and trading networks to the professionals of the packaging and printing industry. SinoCorrugated South 2020 is going to open a new chapter in global corrugated processing and manufacturing events.
No.1: UFI Approved International Event
SinoCorrugated South is part of the show portfolio of Reed Exhibitions (Shanghai) Co., Ltd. which is the organizer of the world's professional trade show for corrugated equipment, technologies and trends.
The main show SinoCorrugated has just been granted the status as "UFI Approved International Event" and is therefore providing a trusted industry platform for its visiting business professionals. The endorsement of UFI guarantees the service, quality and popularity of the show.
No. 2: 19 years of Branding History
Founded by Reed Exhibitions in 2001, SinoCorrugated serves as one of the earliest specialized corrugated equipment, consumable and technology exhibitions in Asia. As one of the largest and most specialized industry trade platforms in China and even the Asian-Pacific region, SinoCorrugated South 2020, which focuses on the packaging markets in China and Asian-Pacific region and brings together professionals in the Asian-Pacific carton industry, will hold this annual event again for equipment & consumables suppliers and agents as well as carton manufacturers.
No. 3: A One-Stop Procurement Platform
The exhibition will bring together more than 900 world-renowned corrugated equipment & consumable suppliers to jointly display new technologies, products, materials and innovative solutions of corrugated paperboard and carton processing, in an endeavor to forge a one-stop procurement platform in all dimensions and propel carton packaging enterprises to improve procurement efficiency and reduce procurement costs. The carnival gathering suppliers, decision-makers and managers of terminal enterprises, as well as industry association and media, in the meantime, is a gold opportunity to acquire knowledge, seek business partners and expand networks.
No. 4: Country of Honor- Vietnam to be Launched Alongside
The global international trade pattern has undergone dramatic changes in recent years, bringing about soaring investment in Southeast Asia and skyrocketing demand for packaging in the short term. By virtue of its abundant overseas resources, Reed Exhibitions has reached out its brand influence to high-growth countries and regions along the "Belt and Road" route. As the new project "Country of Honor- Vietnam" to be launched along the show, Vietnamese exhibitors, related government departments, industry associations and media, will gather to display the dynamics and potentials of Southeast Asia market. Visitors to the show are going to experience a featured pavilion, and able to grasp the market trend and explore new business opportunities in Southeast Asia.
No. 5: PACKCON to be Held Concurrently
Concurrently, PACKCON 2020 will set up five featured zones, namely FMCG B2B Logistic Packaging Zone, MCG B2C & E-Commerce Packaging Zone, Fresh F&B Cold Chain Zone, Off-line Retail Packaging Zone, Heavy Carton Zone to display the latest technologies. Innovative packaging materials, designs and overall solutions will gather to demonstrate the complete picture of packaging industry in a systematic way.
No. 6: 30+ Grand Onsite Events
Over 30 onsite events will be launched along the show, where provides an open environment for practitioners in the industry to exchange ideas and share experience. Particularly, the World Corrugated Awards (WCA) will return in 2020, which aims to select the best design, material, application, new factory planning, new-generation professional leader and environmental-friendly product of the year. Seize the opportunity to compete with the world-renowned carton manufacturers, gaining the endorsement of world-leading authorities and end-user brands; Leverage a global platform of industry influence to establish the corporate image and maximize the brand exposure.
No.7: Packaging Digital Printing Summit to be Initiated
In response to the intense market competition, personalized packaging has become the inevitable trend. In recent years, the successful applications of digital printing in commercial printing has exactly provided a solution and a new business growth point. Packaging Digital Printing Summit 2020 will host representatives of associations, packaging and printing manufactures, terminals and suppliers, where provides the knowledge on how to integrate business structures so as to embrace Internet era as efficient as possible. The Summit aims to solve the pain points of traditional printing and present new ideas.
No. 8: InMAT 2020 Launched to Complete the Show Portfolio
Intralogistics and Process Management Expo (InMAT) 2020 will make its debut along with SinoCorrugated South 2020. InMAT 2020 is a professional exhibition where all members of the manufacturing industry enterprises will be able to see and experience a full display of related intralogistics and processing management equipment, technologies and solutions involved in the raw materials storage, product manufacturing, packaging and warehouse operation.
No. 9: The 6-IN-1 Mega Show Covers the Whole Packaging Industry Chain
SinoCorrugated South 2020 will concurrently located with SinFoldingCarton 2020, SinoFlexPack South 2020, SinoPaper South 2020, China Packaging Container Expo and Intralogistics and Process Management Expo 2020. The 6-in-1 mega show truly realizes the integration of the whole packaging manufacturing industry chain, bringing synergy effects to the exhibition and forging an industry connectivity platform.
For more information, please contact the organisers at +86 2231 7006 or email us at  info@reedexpo.com.cn