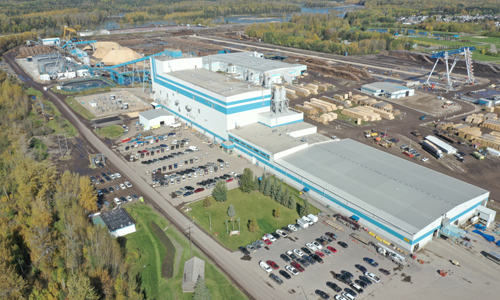 The Canadian BCTMP and lumber producer Millar Western has installed a PulpEye system to its Whitecourt pulp mill. The delivery consists of analyser modules for CSF, fibre dimensions, shives, brightness and crill. This is the ninth PulpEye installation in Canada showing that PulpEye technology is well established in the Canadian pulp industry.
Millar Western's Whitecourt pulp mill began production in 1988. Originally designed to produce 210,000 air-dried metric tonnes (ADMT) of BCTMP per year, the mill's capacity today stands at 320,000 ADMT. The pulp mill produces BCTMP pulps using hardwood as well as softwood as raw material.
The Whitecourt mill is a flexible and efficient BCTMP mill producing more than twenty different pulp grades for use in products such as fine printing and writing papers, paperboard, specialty papers, tissue and toweling. It is therefore important to efficiently know and control the pulp quality at any time during production to make sure that the pulp customers get the right pulp for their applications.
"Canada is an important market to us as it is one of the biggest pulp and paper producing countries in the world," says Lars Norin, PulpEye Canada Inc. "We are proud that Millar Western has chosen PulpEye for their online pulp quality control. It is successfully installed and in operation."
"Research studies have shown that crill is the single variable having the strongest connection to paper or board strength. The more crill there are on and around the fibres, the stronger the paper or board will be. By measuring the amount of crill it is possible to pre-calculate the strength of paper and board and hence define the refining needed to optimise the amount of crill," Lars Norin finishes.