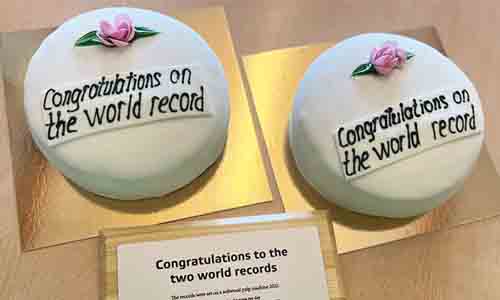 On May 19, 2023, Valmet was on site in Värö to hand out a record plaque and offer cake to celebrate the double world record set on the pulp dryer in 2020 and 2022.
"The record is about the number of tonnes per meter of width per day. The current record is 466 tonnes, which corresponds to a production rate of 2,608 tonnes per day, as we have a six meter wide machine," says Jimmy Syrén, Department Manager for the pulp drying machine at Södra Cell Värö.

"It is fantastic what has been achieved in Värö and it is very nice to be here today as a representative of Valmet," says Peter Lindgren, Mill Sales Manager Scandinavia at Valmet. "Since 2007, we have supplied a lot of equipment to Södra and especially here in the pulp drying line. We have had several major development projects together and I am incredibly pleased that Södra Cell Värö is able to achieve this and that we at Valmet are part of it," Peter continues.

"It is our staff that makes this possible and a new record is not impossible in the future," Jimmy concludes.