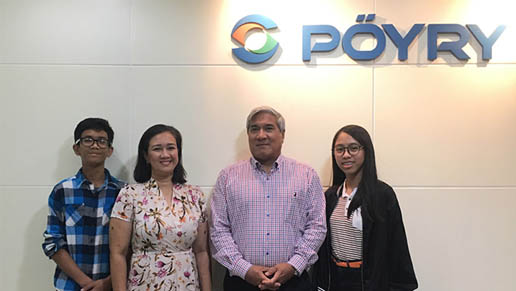 Pöyry Finland Ltd. is one of the godparents of the World Summit of Students for Climate (WSSC) and sponsors the travel expenses of one country delegation to the summit organised in Finland on May 29 – June 5. Pöyry's support enables the participation of the Philippine delegation. The summit wants to raise the voice of the students and initiate a long-term school campaign the aim of which is to plant trees every year and tie 3 million tons of carbon dioxide by 2025. As part of the program, the participants will plant trees in Joensuu, Finland.
"It's great to see that the students understand the criticality of climate actions and are ready to make their commitments to realise climate objectives. We need swift actions to mitigate climate change and the students show example in many ways. Pöyry's experts develop solutions to address challenges of climate change and to support well-informed decisions so it was natural for us to support this excellent initiative," says Juuso Pajunen, Managing Director of Pöyry Finland Ltd.
The Philippine delegation visited Pöyry's office in Manila before their trip to Finland.
"It is no doubt that climate change is a global concern. The young people today have to step up to the challenge of fighting the impacts of climate change now. The WSSC is a good opportunity to actively take part in finding way help the environment before it's too late," said Ann Abacan, Principal and Co-Owner, Sophia School.
Delegates for the WSSC from the Philippines came from the Sophia School, a progressive integrated school in the Philippines, where students have proactively taken part in ways to mitigate climate change. One of its programs is 'Meatless Mondays,' a habit that the students have adapted as a way to positively impact the environment.
Pictured is the Philippine delegation together with Nicky Gemperle (second from right), President, Pöyry Energy Inc (Pöyry Philippines). Pöyry is one of the leading consultants in South East Asia and has contributed to over 3,000 MW of wind power and over 5,000 MW of solar power in the whole of Asia. 
The summit will gather participants from 70 countries, altogether 135 students and 100 teachers. The first days of the summit will take place in Liperi and Joensuu in Eastern Finland and the summit will close in Helsinki where the students will announce their climate agreement on World Environment Day on June 5.
The World Summit of Students for Climate is organised by ENO Schoolnet, in co-operation with the cities of Helsinki and Joensuu and municipality of Liperi as well as Ministry of the Environment, Ministry of Agriculture and Forestry, Ministry of Education and Culture and Ministry for Foreign Affairs in Finland. The godparents will sponsor the travel expenses of country delegations.