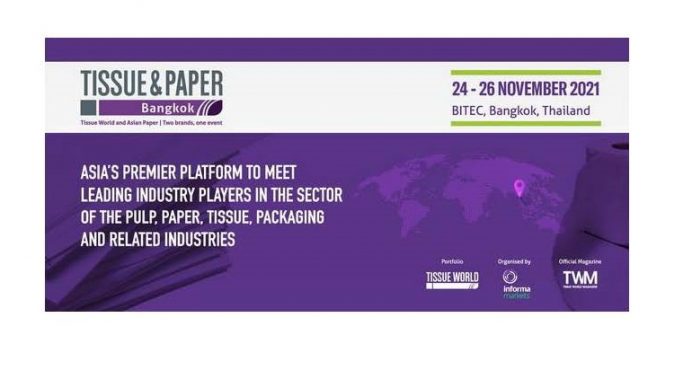 Informa Markets Singapore, the organiser of the Tissue & Paper Bangkok (formerly known as Asian Paper and Tissue World Bangkok), has decided to reschedule the upcoming 2021 event following extensive consultation with exhibitors, industry partners, delegates, speakers and taking into consideration the impact of the COVID-19 pandemic on the industries. The event will be rescheduled to Wednesday 24 – Friday 26 November 2021 at the Bangkok International Trade and Exhibition Center, Bangkok.
The safety of participants is afirst priority for the organiser who believes that these revised dates will allow more time for normality and confidence to return to the marketplace, for travel restrictions to be eased, and provide all-round better conditions for the event.
In the meantime, a digital platform will be launched to facilitate unlimited engagement among the industry, promoting on-going communication and opportunities to keep up-to-date leading up to our 2021 edition. In view of this, the team is announcing the dates for the upcoming Tissue & Paper Bangkok webinar, lining up key speakers and experts from the industry, which is set to take place on 10 June 2021. The organisers will be communicating further details and full program in due course.