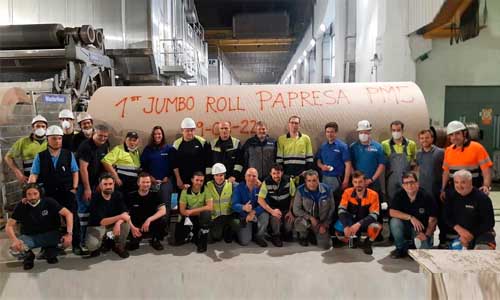 A few days ago, Papresa started a new phase in its ambitious strategic plan. After months of work, PM5 machine has been wholly reconverted and is now ready for operation.
Thanks to this conversion, the Spanish paper maker will be able to add 250,000 tonnes per year of corrugated board production capacity for the packaging market. The conversion work on the machine, which previously produced newsprint, has been carried out by the German company Voith, one of the leading European players in the paper sector.
"We have just produced our first jumbo roll of packaging board, which completes the core investment of our conversion plan. Our Errenteria mill now can produce 250,000 tonnes per year of testliner and fluting, mainly light grades," explains Miguel Sánchez, president and CEO.
This conversion is part of Papresa's new strategic plan, which was launched in 2021, and which involves focusing on the production of paper for the packaging segment without giving up newsprint, its main line of business, until 2020.
To this end, in addition to the conversion of PM5, Papresa is in the final phase of building a new OCC plant and constructing a plant with anaerobic water treatment technology integrated into the factory, which will generate biogas that can be reused as fuel for the steam production boilers used in paper production.