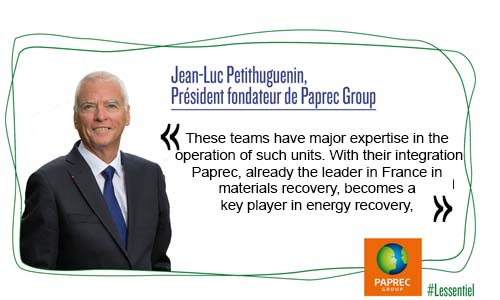 Paprec announces the integration of the teams of CNIM's Operation and Maintenance subsidiary and the entry into exclusive negotiations with Dalkia for the acquisition of Dalkia Wastenergy (ex-Tiru). If these negotiations are successful, Paprec's new Energy Recovery Division would employ 1,500 people, with 29 energy recovery plants and a turnover of almost €300 million. The French leader in recycling would thus become the third largest French player in energy recovery. The group, which is continuing its international expansion, has announced a significant increase in results and EBITDA in a context marked by the pandemic.
Paprec has announced the arrival of teams from CNIM's Operation & Maintenance subsidiary, a group with which it had been in exclusive negotiations for several weeks. Until now, Paprec has operated three energy recovery plants through its subsidiary Inova Operations, which has been owned since 2018 with Altawest. CNIM's O&M division operates eight energy recovery units (four in France, three in the UK and one in Azerbaijan) as well as two projects in the United Arab Emirates and La Réunion. This entity, based in Var, has 400 employees – half of them in France. "These teams have major expertise in the operation of such units. With their integration, Paprec, already the French leader in materials recovery, becomes a key player in energy recovery," says Jean-Luc Petithuguenin, Chairman and founder of the group created in 1994.
To strengthen this portfolio and expertise, Paprec announced today that it has entered into exclusive negotiations with Dalkia (a subsidiary of EdF) to acquire Dalkia Wastenergy (ex-Tiru). This entity has 800 employees and manages 27 processing units, 16 of which are dedicated to energy recovery, in France as well as in the United Kingdom and Poland. This takeover offer shall be submitted in advance for consultation to the representative bodies of the staff concerned. Following this consultation, the offer will be subject to obtaining the applicable regulatory approvals, in particular from the relevant competition authorities.
Stéphane Leterrier, Paprec's Deputy Managing Director, will manage the Paprec group's Energy Recovery division. He says "with these two companies, CNIM O&M and Tiru, Paprec would manage 29 energy recovery units, thus becoming the third largest French player in the sector."
Excellent 2020 results
Despite the pandemic, Paprec's results for 2020 were particularly satisfactory, with EBITDA up 17% (to nearly €280 million). "These results confirm the robustness of our business model, which is focused on providing customised, high value-added services to our industrial and local authority customers, covering all their waste collection, processing and recovery needs," explains Charles-Antoine Blanc, the group's financial director. "It is in crises that the DNA of a company is revealed. And in this one, as in 2008, my teams showed their ability to adapt, which was a determining factor in obtaining these very positive results," says Jean-Luc Petithuguenin, who continues: "we aim to reach 2 billion euros in turnover and 14,000 employees by the end of the year".
2000 jobs created in the last three years
With a strong business model and financial base, the group is growing steadily by integrating new companies, but also organically. Paprec has created 2,000 skilled jobs in France over the past three years. With expertise in all areas of the waste industry and more than 200 sites and agencies in France and Switzerland, "the group now has a vocation to grow outside France. We were already present in 65 countries where we sold raw materials from recycling. With the Services branch, this is a new stage in our international growth," says the founder of Paprec. With its Energy Recovery division, Paprec will set foot in the United Kingdom, Poland, the United Arab Emirates and Azerbaijan, after having developed its recycling activities in Switzerland for nearly ten years.