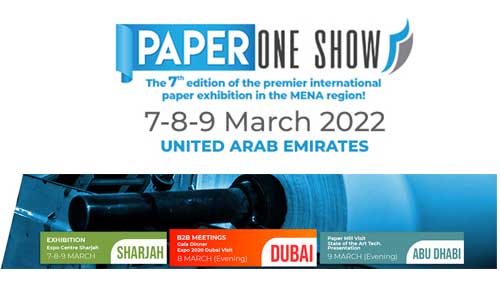 Al Furat Fair Organizer successfully held the latest edition of Paper One Show in 2020 at Festival City, Dubai. Today, Paper One Show brings together professionals from the paper and paper products industry again in the UAE on 7-8-9 March 2022!
Paper One Show offers you a unique series of events in UAE not to be missed. Our program starts with the opening of the fair at Expo Centre Sharjah on March 7. The exhibition will take place at the Expo Centre Sharjah on 7-8-9 March 2022. In addition to Paper One Show, on the evening of March 8, there will be B2B meetings and Dubai Gala Dinner in Dubai, and Expo 2020 Dubai visit will be held as well. On March 9, after the end of the exhibition, a visit to the Paper Mill in Abu Dhabi will take place and after having the State of the Art Tech. Presentation in the evening, we will be successfully completing the 7th edition of Paper One Show.
For more information, please visit www.paperoneshow.net
 Paper One Show adds value to the paper industry with the fairs, symposiums, and B2B meeting events being held in the MENA region since 2007. Throughout the years, Paper One Show has not only become one of the premier exhibitions of its kind but also attained a well-known reputation both around the region, and the paper industry as well. Whether your interest is on paper, tissue, cardboard, jumbo rolls, corrugated materials, hygienic paper, converters, printing, packaging, raw materials, or machinery, Paper One Show will bring together a wide variety of manufacturers and buyers from the paper industry.