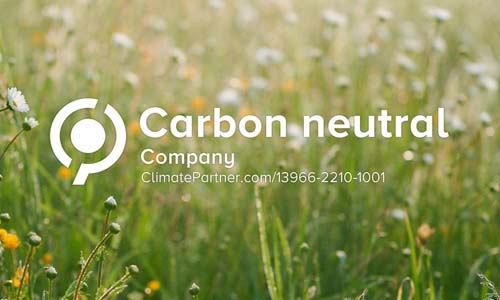 One of OrganoClick's strategic sustainability goals for several years has been to become a carbon-neutral company before 2023. After a three-year project in which OrganoClick gradually reduced its CO2 footprint, the company has now succeeded in obtaining the certification as a Carbon-Neutral company by Climate Partner!
During the course of the three-year project, OrganoClick has, among other things, replaced its car fleet with 100% electric cars and all energy in the company's production and operations comes from renewable energy. Furthermore, work to reduce the energy consumption per unit produced has been ongoing via investments in more energy-efficient production equipment and water purification systems.
"We are incredibly proud that we can now be a certified carbon-neutral company. Improving for the environment has been the core of OrganoClick's business concept since we were founded 16 years ago. This includes replacing fossil-based chemicals with our bio-based alternatives but our internal work to reduce our business' impact on the climate is also a central part of our business," says Mårten Hellberg, CEO of OrganoClick.
OrganoClick's CO2 emissions have been calculated by Climate Partner according to the Greenhouse Gas Protocol (GHG) and certification as a climate-neutral company applies to Scope 1 and Scope 2.
For more information about our Carbon Neutral certificate, please see the homepage of Climate Partner.