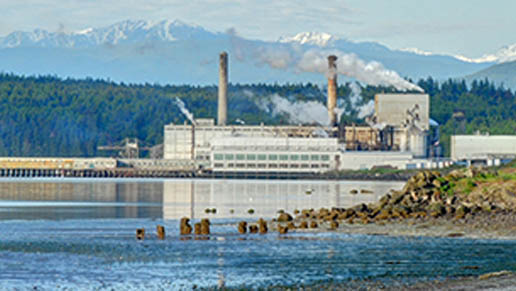 Port Townsend Paper Company (PTPC) moves forward with ABB Ability™ Advanced Digital Services
PTPC, a North American producer of pulp and paper products, began an evolution path in April 2018 for its mill in Port Townsend, Washington, USA. The mill's distributed control system (DCS), which was nearing the end of its lifecycle, started a phased evolution upgrade. As a result, the mill will be able to continue operations and avoid a weeks-long shutdown while ABB performs services and upgrades during planned downtime.
As part of the agreement, ABB migrated the mill's existing Human Machine Interface (HMI) to ABB Ability™ System 800xA.  As the industry's leading control system, System 800xA also serves as an integrated electrical control system, a safety system and a collaboration enabler with the capacity to improve engineering efficiency, asset utilization and operator performance.
The mill also added OPT800 Cook/B, which is part of the ABB AbilityTM Advanced Process Control offering for pulp mills.  OPT800 Cook/B is the latest version of the Advanced Batch Digester Management System that sequences and schedules PTPC's batch digesters to process wood chips into pulp more efficiently, helping to increase production. PTPC will also benefit from minimized kappa variation and steam leveling, which will result in reduced chemical and steam usage.
The mill also receives ABB Pulp and Paper Care as part of the agreement. This is a modular service agreement framework designed to cut complexity, control cost, and maximize capital for ABB customers. ABB Pulp and Paper Care can address customer needs such as:
Rapid Response guarantees fast and flexible service response to maximize equipment availability. Services include spare parts management programs, 24/7 technical support, and remote support services.

Lifecycle Management provides powerful tools and ABB knowledge base to optimize and extend equipment life through use of ABB Automation Sentinel subscription.

Performance Improvement increases productivity through usability and efficiency optimization of equipment and processes. Services provided can include Site Services, Resident Service Engineering, and System 800xA Performance Services.
Port Townsend Paper Corporation (PTPC) produces kraft pulp, paper, containerboard, and specialty products by blending virgin and recycled fibers at its mill headquarters in Port Townsend, Washington, USA. Along with its sister corrugated packaging facility, Crown Packaging in British Columbia, PTPC offers a variety of sustainable solutions to its customers. PTPC is recognized as a market-driven, entrepreneurial specialty kraft paper and containerboard producer that consistently provides high quality products. Its mission is to maximize EBITDA while continuously upgrading manufacturing assets and improving employee capabilities.