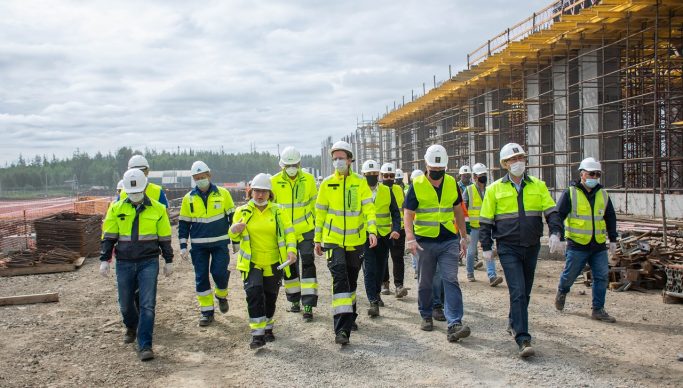 The Russian Ilim Group continues to implement its project for the construction of a new pulp and paperboard mill in Ust-Ilimsk in accordance with the project schedule
Installation of main buildings and facilities is currently in progress at the construction site. All main process equipment has been purchased, its delivery to the construction site is under way. More than 100 vehicles carrying equipment units for the future production line arrived at the mill construction site.
Delivery of the first lots of equipment and parts for the Cooking and Washing Area, Vacuum Evaporation Plant and Woodroom took place in July, 2020. A total of more than 3,400 vehicles loaded with equipment will arrive to Ust-Ilimsk with more than 1,250 vehicles loaded with the KLB machine equipment. The first containers with the KLB machine equipment are expected to be delivered in October, 2020.
In order to ensure continuous implementation of the project, Ilim has invested in the construction of a new concrete plant and crushing and screening complex that provide the future PPM construction site with concrete.
The PPM construction project team is fully staffed, recruitment and training of PPM operators is in process. Ilim works closely with the regional authorities to jointly develop the city's social infrastructure.
"Ilim's new mill is a unique innovative project that is unparalleled in Russia and has very few comparable facilities globally. Its production process is based on the cutting-edge technologies and is in compliance with international environmental standards. Main custom designed equipment was manufactured by Andritz and Voith, our long-standing partners and leading manufacturers of process facilities for the global pulp and paper industry. I am certain that Ilim will be proud of its pulp and paperboard mill in Ust- Ilimsk, which will strengthen Ilim's long- standing partnership with its customers in China and become the next step in the strategic development of our Company", said Kseniia Sosnina, Ilim Group CEO.
As a reminder, Ilim Group signed a contract with Voith, German machine building company, to supply a XcelLIne paper machine in spring 2019. With an annual output of 600 thousand tons, this custom designed KLB machine will be the largest in the world in terms of kraftliner (virgin board) production capacity. At the engineering stage a special focus was placed on high-tech KLB machine equipment. The equipment will be delivered to Ust-Ilimsk as pre-assembled Mill Installation Units. The heaviest element of the KLB machine, Nipco-P center rider roll, will weigh 79 tons.
"We are proud that this unique project is advancing excellently and greatly appreciate the good cooperation with the Ilim Group", said Dr. Christoph Müller-Mederer, President Projects EMEA at Voith.
In addition to high-tech equipment and process automation, the new production line will be manufactured in line with global environmental standards and best available technologies. Ilim's new recovery boiler supplied by ANDRITZ fully complies with highest environmental standards by minimizing the environmental impact through high boiler efficiency and availability as well, as a modern combustion air system. Moreover, this RB will be equipped to handle all non-condensable odorous gases generated in the new pulp line in any foreseen operating situation. This will ensure safe and odourless pulp production.
"We at ANDRITZ are very proud to supply major parts of the new pulp mill, including modern woodyard, two fiberlines, recovery boiler and modernization of white liquor plant. In addition to this, ANDRITZ is also supplying a DCS system for the whole mill, as well as Advanced Process Control systems for critical process areas. This project is another example of the excellent long-term relationship between the Ilim Group and ANDRITZ. I am very confident that this project again will be implemented smoothly by us and to full satisfaction of Ilim", says Sergey Malkov, CEO of ANDRITZ LLC.
The Construction of a new Pulp and Paperboard Mill in Ust-Ilimsk has successfully gone though all necessary expert reviews, including a state environmental expert review.
Upon completion of the investment project in Ust-Ilimsk, Ilim Group will become one of the largest manufacturers of unbleached packaging materials globally with a total board output of 1.5 million tons per year, bringing its aggregate production output to over 4.4 million tons per year.