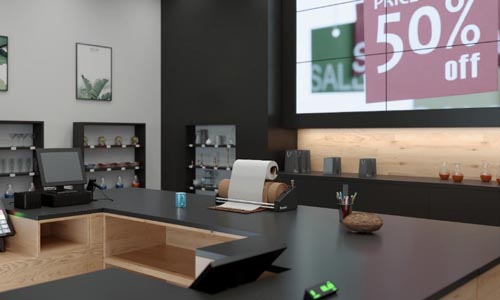 Ranpak Holdings Corp., a global leader in environmentally sustainable, paper–based packaging solutions, has launched a new packaging system for retailers. 'Pack–in–Store' solutions are now available in European, Middle Eastern and African (EMEA) markets.

Recent, significant changes in customer behavior have seen the retail environment adapting. For example, Luc Smeets, Marketing Director EMEA at Ranpak, said Ranpak has observed firsthand the emergence of customers' demands around sustainability:
"As a supplier of packaging solutions across e–commerce and industrial supply chains, we see that both online sellers and retailers with a brick–and–mortar presence are facing a rapidly changing business landscape and need more sustainable packaging options.

"Forrester's recent predictions confirm a trend that we are all seeing – the importance of the circular economy to retail businesses. They also highlight growing expectations about how customer returns are being handled.1 Both of these issues speak directly to brand reputation and customer experience as key factors in years to come – an arena where better packaging can help."

Retailers across the globe are working to engage consumers via better messaging, and with more sustainable and efficient operations. Making optimal use of available space is one important factor, and that can include options such as buying online for in–store pickup.
Yet the in–store experience is still pivotal: about 62% of in–store purchases can be attributed to impulse buying,2 so streamlining point–of–sale operations and ensuring brand–friendly sustainability make a big difference.

According to Smeets, "Customers buying in–store want fast and efficient packaging, and they also want to see 100% sustainable and bio–degradable packaging solutions provided from behind the counter. On the retailers' side, it's important to avoid having to accommodate multiple packaging types that take up valuable store space. Our new Pack–in–Store solutions resolve both of these challenges.

"Ranpak has broad expertise across industrial and online packaging environments, and we have designed these new packaging solutions specific to retail stores. Pack–in–Store integrates easily into any retailer's current setup, offering a solution that is cost–efficient, easy to use and with a small physical footprint. 100% paper–based protection avoids conventional plastic air bubble products, too. Ranpak's new product range reflects our focus on growth–oriented innovation, and our 50–year commitment to eco–friendly solutions that express the values we share with so many customers worldwide."

Feedback from pre–launch customers has been very positive, and Ranpak is now making the solutions available to retailers across EMEA who will be able to offer their customers packaging in line with the circular economy. Pack–in–Store offers strong protection and costsavings when compared with systems such as foam and plastic bubble sheets, helping to protect products and the planet, as well as profit margins.

Geami Wrap 'n Go™
The most important Pack–in–Store innovation for in–store use is the Wrap 'n Go™ converter. This is a new patented dispenser for Geami® packaging. It expands die–cut kraft paper into a protective 3D honeycomb structure, with optional soft tissue interleaf paper.
Wrap 'n Go is sustainable, modular and easy to use, and needs no adhesive tape or cutting. A patented self–adjusting tensioning mechanism boosts performance and reliability versus copycat offerings and reinforces Ranpak's position as a product leader in the paper wrapping space.
1 Fiona Swerdlow, Sucharita Kodali, Forrester, Predictions 2022.
2 Godwin Ofori, Newneuromarketing.com, What Psychology Knows. About Impulse Buying In 2020, July 8, 2020.