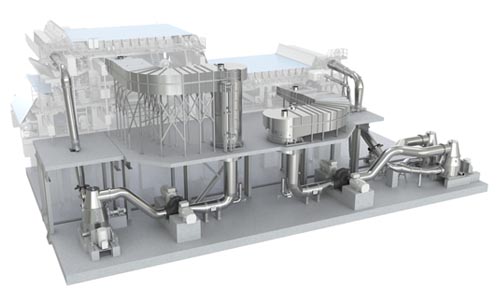 Voith has comprehensively optimized its HydroMix stock mixing system. The new generation of this tried and tested system features an automatically adjustable stock nozzle, ensures an excellent mixing quality of stock and whitewater, and guarantees consistently superior sheet quality. With a significantly expanded operating window, paper manufacturers benefit from maximum flexibility in the approach flow system of the papermaking process.
At the heart of the new generation of the stock mixing system is the automatically adjustable mixing nozzle that has been fundamentally optimized in terms of design and geometry, resulting in an excellent mixing quality of stock and whitewater and maximum homogeneity. The automated adjustment function of the patented nozzle aligns the stock consistency with the required target values and guarantees superior sheet quality further downstream the process chain.
In order to expand the operating window for the proven HydroMix and, in doing so, offer paper manufacturers the greatest possible flexibility, Voith has not only optimized the nozzle but also the geometry of the whitewater feed.
The new design uses the principle of an acceleration profile to optimize the flow pattern in the nozzle area.
"This prevents turbulence, significantly increases the effectiveness of the system, and achieves optimal homogeneity of the high-consistency stock and whitewater mixture. In parallel with these benefits, the largest possible operating window can also be accommodated and a high degree of flexibility achieved in the operation of the system," states Hermann-Josef Post, Product Manager Wet End Process at Voith.
Due to the optimized shape and optimal adjustability to the respective operating point, the pressure drop in the high-consistency feed is lower and the load on the high-consistency stock pump is relieved, giving rise to significant energy savings. The differential pressure linearly adds to the power requirement. In addition, the pump is kept in the optimal operating range, which further increases efficiency.
The space requirement is also significantly reduced due to the compact design of the new HydroMix. The length of the mixing zone is reduced by around 50 percent compared with the previous design, which increases the application potential in restricted installation spaces and reduces building investment costs.
The new generation of HydroMix can be combined with various whitewater flow options. A digital measurement of the gas content also permits precise control of deaeration chemicals, which reduces the use of chemicals and lowers operating costs. The new generation of HydroMix is complemented by an automated cleaning system that guarantees excellent cleanliness in the entire mixing system, avoids deposits and reduces the risk of tearing.