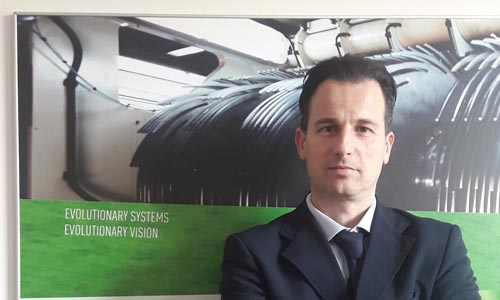 Brazil, North America and China: new markets thanks to the synergy with Fabio Perini
More than two years ago, MTC, a technology leader for tissue folding solutions, became part of the Tissue Business Area of the Körber Group. Today MIAC becomes the occasion to make a first assessment, together with the new general Director Daniele Bernacchi.
"The integration of MTC, in synergy with Fabio Perini, has first of all enabled us to implement strategic planning for growth, with the aim of doubling our sales by 2021. The internal R&D office has been implemented, allowing us to develop new technologies and products. We have been investing on people, recruiting 15 new employees, enlarged our sales network and strengthened our offer at global level, thanks to the worldwide presence of Fabio Perini. In particular, in the Joinville Brazilian site, a new area of the Fabio Perini plant has been dedicated to producing tissue folding machines, allowing us not only to increase our competitiveness, but also to offer an in-situ after-sales service, much appreciated by customers. On the other hand, in North America, we are training Fabio Perini's engineers to enable them to guarantee assistance for our machines. Finally, we are working at a prototype of interfolder for the Chinese market, that will be produced directly in the Fabio Perini Shanghai site and will allow us to open a new front also in this key market".
At MIAC, MTC is presenting the ITF 5000 line, a vacuum folding machine for hand towels, in an enhanced version with less environmental impact. In fact, this interfolder adopts for the embossing section a glue with a higher dilution ratio compared to traditional laminators and, in the banding part of packaging, the seal is obtained by gluing at reduced temperature, thus limiting energy consumption. The machine has a compact build and can operate at 250 meters per minute.
Starting October 8th and during the whole period of the MIAC exhibition, there will be an Open House at the MTC headquarters in Porcari (Lucca, Italy) where, in addition to displaying the operating ITF 5000 line, there will also be a corner dedicated to the new MTC's Customer Service offer. This is organized in 4 areas, namely a 24/7 service for customers, to supply technical support at their premises and remotely; training for machine operators and maintenance engineers; "T.I.P.s" and upgrades to allow the updating and improvement of the customers' machinery and the spare parts service, with a well-stocked warehouse to satisfy all requirements in the shortest possible time.
"In addition – Bernacchi concludes – our technical service can carry out a customized evaluation of the quality and characteristics of the paper that is being processed, thus allowing the formulation of precious advice to improve every kind of production.
In fact, some parameters, such as paper permeability, are key for vacuum folding machines and our analyses aimed at increasing performances are found very useful and are much appreciated by our customers, both when they buy new machines and every time they start a new product on their lines".