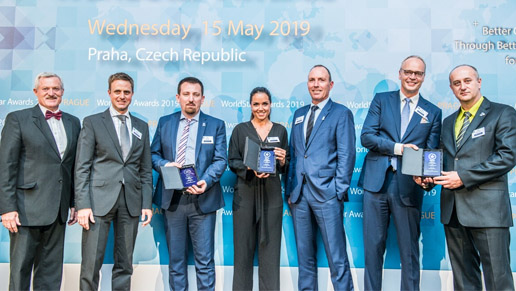 Global packaging and paper group Mondi played a leading role as it scooped eight prizes at the WorldStar Awards ceremony in Prague, Czech Republic in May.
The WorldStar Packaging Awards acknowledge the best ideas, innovations and technologies on the market. The jury looks for sustainable solutions to packaging challenges, a demonstration of enhanced user convenience, and reduced material waste.
"Being recognised for our innovative packaging solutions is great motivation for our teams and speaks to our customer-centric approach to addressing today's packaging challenges.", says Armand Schoonbrood, COO Mondi Corrugated Packaging, whose colleagues brought home seven of Mondi's eight awards.
The eight award-winning products from Mondi are:
Glass7Box in the Household category – Mondi Austria
Recyclable waste separation system in the Household category – Mondi Poland
Side support in the Transit category –Mondi Turkey
Packaging closing optimization in the Transit category – Mondi Czech Republic
Pick-up tray in the Point of Sale category – Mondi Turkey
Pallet utilization support system in the Other category – Mondi Czech Republic
Yoghurt tray with tear tape in the Food category – Mondi Czech Republic
BarrierPack Recyclable in the Packaging Materials & Components category – Mondi Germany