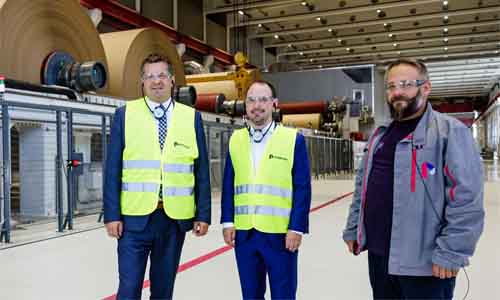 "The current situation is a dramatic reminder of how much we still rely on fossil fuels in Germany. We at Progroup are continuously reducing this level of dependence," says Heindl. He explained how to Sven Schulze, Minister for Economic Affairs, Tourism, Agriculture and Forestry of the state of Saxony-Anhalt, on a joint tour of the PM3 paper factory.
Progroup already uses a circulating water treatment plant to obtain biogas, which covers 10% of the energy demand there. The company has also invested more than 100 million euros in state-of-the-art technologies to deliver production that conserves resources as much as possible. To further improve the life-cycle assessment, at the end of the year the manufacturer of containerboard and corrugated board sheets is planning to start constructing a new CHP plant in Sandersdorf-Brehna. It will supply power and heat to the paper factory from the end of 2025. This could also benefit local households, which could be supplied with eco-friendly district heat. Sandersdorf-Brehna will become Progroup's second CHP plant after the plant in Eisenhüttenstadt.
Helping to deliver an independent energy policy
"Saxony-Anhalt's paper industry is the number one in Europe. Progroup's site in Sandersdorf-Brehna is one of the industry's shining lights. In recent years, the company has invested in state-of-the-art production technologies with funding from the state of Saxony-Anhalt. The construction of the new power plant is another step towards securing an independent energy supply that conserves resources. Saxony-Anhalt as a place to do business also benefits from pioneering projects like these."
Progroup traditionally has close links to Saxony-Anhalt: The family company built a corrugated sheetfeeder plant in Burg back in 1998. Three years later, the first paper factory PM1 started operating – also in Burg. Following a record-breaking construction and assembly time of just 18 months, the paper factory PM3 started operating in Sandersdorf-Brehna at the end of August 2020. Progroup has already invested around one billion euros in the state and is currently the biggest single investor there. The company employs more than 450 people in Saxony-Anhalt.
"The new power plant will create another 35 jobs. "We have laid the foundation here for our development as a business," says Heindl. "And this is where we want to continue to write our success story too."