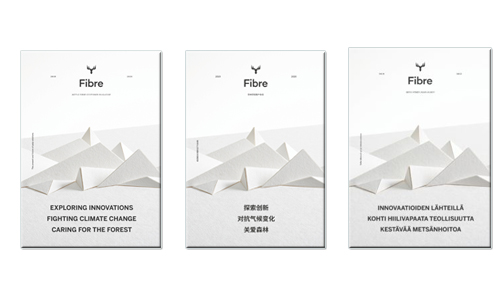 Metsä Fibre, part of Metsä Group, has recently won an honorable mention in the prestigious Ozzie Award for its pulp customer magazine redesign. Fibre magazine is produced by Hube Helsinki Oy.
Metsä Fibre's customer magazine concept was renewed in 2019, and in connection with the redesign, the magazine got a new name, Fibre, that reflects the contents. The overall look of Fibre magazine is light and bright, the layout elements are minimalistic and the illustration is strongly related to the topics covered.
"This recognition was a pleasant surprise for us. We are proud of the success of our customer magazine, as we have worked hard to meet the needs of our pulp customers also in this area. I would like to thank the entire team involved in the redesign work, both at Metsä Fibre and at Hube Helsinki. We are currently also working on a completely new customer magazine for our sawn timber customers," says Eva Martin, VP Marketing, Metsä Fibre.
For more than 25 years, the Eddie & Ozzie Awards have recognised excellence in engaging content and design across all sectors of the publishing industry.
The on-line version of our Fibre customer magazine is available at https://customermagazine.metsafibre.com/