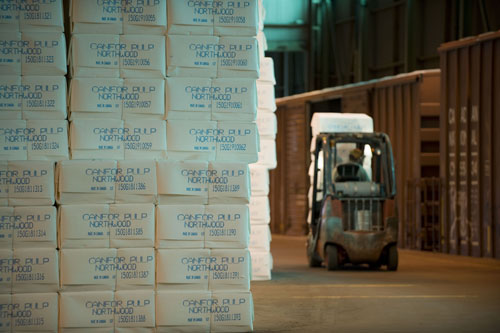 The Canadian Canfor published last week its financial results for Q2 2021.
Overview:
Record quarterly reported operating income of $1.04 billion driven by unprecedented high lumber prices and a strong operating performance across all regions; record-high quarterly sales of $2.5 billion
Record shareholder net income of $727 million, or $5.81 per share
Net cash of $916 million at June 30, 2021; US$150 million repayment of term debt in the current quarter
Cumulative cash deposits of $645 million on countervailing and anti-dumping duties at June 30, 2021
Results in the pulp and paper segment largely reflected materially higher Northern Bleached Softwood Kraft ("NBSK") pulp unit sales realizations, and to a lesser extent, an 8% increase in shipments following transportation disruptions experienced in the first quarter of 2021. These factors more than offset the impact of the stronger Canadian dollar and market-related fibre cost increases in the current quarter.
Following the sharp improvement in market fundamentals earlier in the year, global pulp market conditions were more stable in the second quarter. Demand was solid through the first part of the current quarter but a moderation in purchasing activity from China saw some downward pressure on prices in that region, particularly in June.
The upward trend in NBSK US-dollar pulp list prices to China from the first quarter continued in April, with prices reaching a near-record high of US$995 per tonne in April, before declining in May and June, to end the quarter at US$910 per tonne. As a result, the current quarter US-dollar NBSK pulp list price to China averaged US$962 per tonne, up US$79 per tonne, or 9%, compared to the previous quarter. Prices to North America (before discounts) saw sharp increases in the current quarter, largely in response to the uplift in China prices earlier in the year, up US$296 per tonne, or 23%, from the previous quarter, to US$1,598 per tonne.
In the pulp and paper segment, global softwood kraft pulp markets are projected to soften somewhat through the third quarter of 2021, driven by the current tepid Chinese demand and above-average global pulp inventory levels combined with the traditionally slower summer months. Weakness experienced in the high yield Bleached Chemi-Thermo Mechanical Pulp ("BCTMP") markets, especially in Asia, late in the second quarter is anticipated to continue early into the third quarter of 2021, before a projected stabilization in prices through the balance of the period.
Results in the third quarter of 2021 will reflect the impact of scheduled maintenance outages at Canfor Pulp Product Inc.'s ("CPPI") Prince George and Taylor BCTMP ("Taylor") pulp mills, as well as incremental downtime at the Northwood NBSK ("Northwood") pulp mill and Taylor reflecting both weather-related rail disruptions and pulp mill inventories nearing capacity, as well as, in the case of Northwood, digester-related operational upsets in July. Combined, the currently anticipated third quarter downtime is projected to reduce NBSK pulp production by approximately 30,000 tonnes and BCTMP production by an estimated 12,000 tonnes.
Commenting on the Company's outlook for the third quarter, Canfor's President and Chief Executive Officer, Don Kayne, said, "With the summer heat and wildfire conditions rapidly upon us, our top priority remains to ensure the health and safety of our employees. We continue to actively monitor the ongoing weather-related challenges, particularly with regards to transportation constraints, and remain prepared to take further action as required to ensure minimal disruption to our employees, customers and operations."