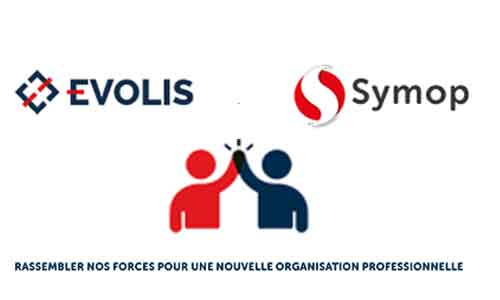 The Evolis and Symop trade unions have announced that they are joining forces to become a leading French industrial trade organisation, active in defending industry and its professions. Unprecedented in its scope, this merger is the result of an intention to bring together all the players who contribute to the competitiveness and efficiency (productivity, environment, etc.) of French industry through the modernisation of production tools. Evolis is the professional organisation for mechanical equipment goods, while Symop is the trade association for production machines and technologies (digital tools, production machines and technologies, including paper-making, robotics, equipment, components, tools and quality control instruments).
With 600 member companies, employing 82,000 people and achieving a turnover of nearly €19 billion (65% of which is exported), Evolis Symop represents a solid and unified organisation, which is more representative of the French and European authorities.
Jean-Claude Fayat, president of the eponymous group, has taken over as president, with Fabien Vincentz, president of Marposs France, as first vice-president.
This new group represents suppliers of capital goods and machinery for industrial production in all sectors: paper and wood, packaging and recycling, mechanical engineering and food processing, construction and infrastructure, water and energy, and chemicals.
This new organisation is also intended to be representative of all these trades, as well as a force for proposals to various players (industrial customers, stakeholders, public decision-makers, the media, major contractors and other organisations representing the industrial world).
The attractiveness of industry, training, regulation, standardisation, digitalisation, productive investment and the modernisation of the French industrial ecosystem will be its priority subjects.
The organisation has also created a new digital platform, modern and collaborative, which aims to reinforce the proximity with members, especially with the younger generations, in a logic of collective and individual services.
Evolis Symop is also a member of the Federation of Mechanical Industries (FIM) and a founding member of the new strategic Contract "Solutions Industrie du Futur" (S-I-F) led by the Alliance Industrie du Futur (AIF).
List of Evolis Symop's machines and equipment of interest to the paper industry ecosystem
– Industrial process machines (wood, paper, packaging),
– Fluidic equipment: mixing agitation, pumps, compressors and valves (building, gas and industrial),
– Handling equipment: industrial trucks, aerial work platforms, industrial lifting…,
– Metal processing machines: machine tools, numerical control, etc.
– Automation, control and new technology solutions: robotics/automation of production systems, measurement/vision/control and additive & digital manufacturing.
Valérie Lechiffre