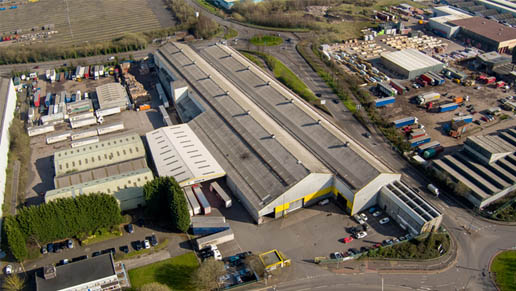 The Klingele Group, one of the leading independent manufacturers of corrugated base paper and corrugated cardboard packaging, acquires 50 percent of the British company Onboard Ltd., also an owner-managed sheet feeder based in Wolverhampton (West Midlands).
Klingele is continuing on its expansion course abroad with this current investment; at the same time, Onboard wants to further expand its good market position on the basis of this strategic partnership. The company has two corrugators and has achieved very strong growth in recent years. It currently employs 84 people and has a production capacity of over 150 million square metres of corrugated board per year.
In recent years, Onboard has continuously invested in the expansion of its capacities and the efficiency of its processes – the second corrugator was put into operation in 2016. In addition, Onboard excels above all with its high level of service and offers the best delivery times in the industry. Onboard has secured its own supply of raw materials through well-established relationships with various international paper manufacturers. Its suppliers also include the Klingele paper mill in Weener and Blue Paper, a joint venture between Klingele and VPK Packaging.
"We got to know Onboard over many years as a very trustworthy partner and customer for our corrugated base paper", states Dr. Jan Klingele, Managing Partner of the Klingele Group. "We want to further promote the successful development of Onboard with this investment and, at the same time, participate in the growth of the corrugated sheet board market in Great Britain. I am now really looking forward to being able to strengthen our cooperation in this way and working together to exploit the existing potential."
"I am very pleased that Dr. Klingele chose us as a partner", confirms Paul Jundu, founder and CEO of Onboard. "Onboard has built up a good reputation in the market as an innovative and reliable manufacturer of high-quality corrugated cardboard products. We have always given priority to the supply of materials from independent plants. I firmly believe that with the support of resources and experience from the Klingele Group, Onboard can build on its position as the only sheet board producer that is not in competition with its customers. This is very good news for our customers, suppliers and employees – and I am already looking forward to the joint future with Klingele."