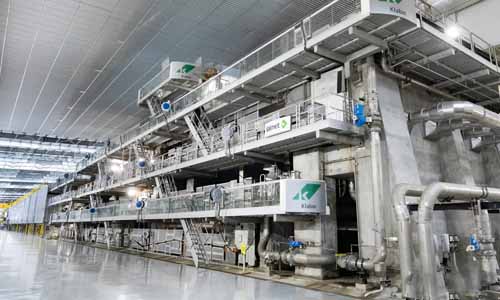 Valmet PM 28 integrates Puma II Project Phase 2 in Ortigueira, Brazil
On May 9th, the new board making line (PM 28), supplied by Valmet to Klabin, started up as part of Puma II Project phase 2 in Ortigueira, Brazil. The order was signed in June 2021. In addition to the modern machine, Valmet also delivered a new fiber line (for unbleached pulp), which includes a new Continuous Cooking G3 system and a new Bleached Chemi-Thermomechanical Pulping (BCTMP) line. The scope also includes Valmet's automation and Industrial Internet solutions.
The new machine is an important part of Klabin's second phase of investment, known as Puma II, with the production goal of 460,000 tons of high-quality coated board annually. Valmet also supplied the kraftliner machine PM 27 in the first phase of this project, producing of Eukaliner® paper made with 100% eucalyptus hardwood pulp, along with the fiber line (brown pulp) equipped with the Continuous Cooking G3 system, the first of its kind supplied by Valmet in the world.
The modern BCTMP and the new fiber line are integrated with the new board machine PM 28. The machine will produce a large variety of board grades from kraftliner to coated boards such as folding box boards (FBB) and liquid packaging boards (LPB) with a reservation to add bio-barrier grades to the portfolio in the future.
"The packaging paper segment presents huge growth potential, driven mainly by the increasing demand for more sustainable options. This new production line brings even more value for Klabin, strengthening our integrated, diversified, and flexible business model. With the PM 28 operation, Klabin will position itself as one of the leading coated virgin fiber boards and kraftliner producers in the world," says Francisco Razzolini, Director of Industrial Technology, Innovation, Sustainability, and Projects at Klabin.

Valmet was chosen as the strategic partner for Klabin's new PM 28, which will produce high-quality coated board grades. With our extensive experience, we have developed highly efficient and integrated solutions, ranging from pulp production to the final product, the paper. The Industrial Internet solutions incorporated in this project allow Klabin to move forward rapidly toward its sustainability and productivity targets. We have provided high-end technologies that support Klabin's strategic objectives in this market," adds Celso Tacla, President of Valmet in South America.
Technical information about the delivery
Valmet's delivery included equipment for stock preparation and approach flow systems as well as a complete three-ply coated board-making line (PM 28) with three OptiFlo Fourdrinier headboxes and OptiFormer Multi with three fourdriniers, ensuring uniform screening paper formation. This is followed by OptiPress Linear with three shoe presses, which play a fundamental role in preserving bulk and densifying the screening. Additionally, an OptiSizer Film sizer technology and two state-of-the-art OptiCoat Jet coating stations ensure uniform coating application, which is one of the key elements for achieving the highest quality of board. Finally, the OptiReel Linear, which allows for jumbo roll changes without paper losses, and the modern OptiWin Drum winder with dual unwind included in the delivery.
The scope also included a coating kitchen for starch and coating preparation, as well as a fabrics package for all machine positions.
For the roll handling, an automatic customer roll handling system was provided, connecting the PM 28 to the new warehouse. All this process is supported by an innovative radio frequency identification (RFID) tagging control system, with all information being digitally read.
The automation scope included the complete Valmet DNA Distributed Control System (DCS) for Process, Machine, and Drive Controls, Machine Condition Monitoring, and Machine Safety System (SRS). The scope also included the Valmet IQ Quality Control system (QCS), Profilers, Machine Vision Systems, and extensive Consistency Measurement and Analyzer solutions. The PM 28 start-up and optimization were supported by a comprehensive package of Valmet Industrial Internet applications, including services from the Valmet Performance Center, a combination of advanced monitoring and prediction applications, as well as Advanced Process Controls (APC). Furthermore, the Training Simulators for this machine allow for simulating the entire paper machine process using the Valmet Virtual Mill application.
Technical information about the cooking fiber line and BCTMP line delivery
The fiber line is designed to flexibly produce eucalyptus hardwood pulp or southern pine softwood pulp. The design capacity for eucalyptus pulp is 1.000 tonnes/day and for pine pulp is 800 tonnes/day. The fiber line delivery included a Valmet Continuous Cooking G3 with ImpBin technology for steaming and impregnation of the wood chips. This two-vessel system provides excellent pulp quality with very low reject content. It features a medium-consistency refining system, containing the in-line EVO-48 refiners at the digester discharge, as well as the RGP-262 Refiners. The washing utilizes Valmet TwinRoll Press technology for easy maintenance and delivers high washing efficiency, low energy consumption, and high availability.
The new 400 tonnes per day BCTMP line includes an impregnation system, high consistency refining stage – the first one in high consistency using the HC RGP-268 refiner, and the second one in low consistency using the LC OptiFiner and RF-5 refiners – three washing stages, and one purification stage with Delta Screen technology. It is designed to provide high yield, low energy consumption, and excellent pulp quality for the new paper machine.
The delivery for the cooking & fiber line and BCTMP line are also equipped with training simulators to enhance efficiency and minimize risks in operations. In addition, approximately 2,400 valves from the Valmet initial offering, including Neles, Jamesbury, and Neles Easyflow brands, have been delivered to the project to ensure the reliability of the new line.