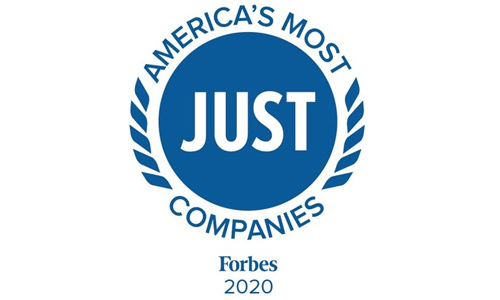 Kimberly-Clark has been named one of America's Most JUST Companies for 2020, according to Forbes and JUST Capital, the leading corporate measurement platform for the stakeholder economy.
The list of America's Most JUST Companies celebrates U.S. corporations like Kimberly-Clark that outperform their peers in the Russell 1000 on issues like fair pay, ethical leadership, good benefits and work-life balance, equal opportunity, social and environmental responsibility, and shareholder return.
Over the past year, Kimberly-Clark has announced key milestones on its sustainability journey, including exceeding its GHG reduction goal three years early and resetting the goal to 40% GHG reduction by 2022. The company was also recently reconfirmed as a constituent of the Ethibel Sustainability Index (ESI) Excellence Global.
"Treating our consumers, employees, partners and shareholders responsibly, with fairness and transparency, is grounded in the guiding principles on which we were founded nearly 150 years ago," said Kurt Drake, Chief Ethics and Compliance Officer, Kimberly-Clark. "This drives our day-to-day actions to ensure we conduct business with the highest standards and integrity, and we are proud to be listed among other companies who believe that as well."
This marks Kimberly-Clark's 3rd consecutive year among the 100 highest ranked companies, ranking 31st overall among the 1,000 largest publicly traded U.S. companies which were evaluated on a range of factors determined through one of the most comprehensive survey processes ever conducted on public attitudes toward corporate behavior.
"America's Most JUST Companies are measurably outperforming their peers on the key issues Americans care about most: taking care of employees by paying a fair and living wage, providing good benefits, as well as equal opportunity and career development," said Martin Whittaker, CEO of JUST Capital. "Creating value for shareholders and stakeholders is not a zero-sum game, with JUST companies earning 6% higher Return-on-Equity than their peers."
All of America's Most JUST Companies will be included in Goldman Sachs Asset Management's JUST U.S. Large Cap Equity ETF (Ticker: JUST) – the first ever exchange-traded fund based on just business behavior, constructed from JUST Capital's annual Rankings, which will rebalance in December 2019.