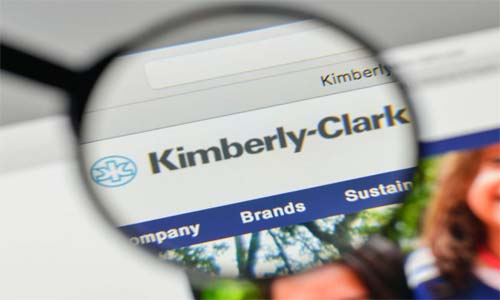 Chairman and Chief Executive Officer Mike Hsu said, "Our teams have been executing well in this challenging macro and operating environment, maintaining cost discipline, balancing pricing initiatives, taking care of our customers, and continuing to build our brands and grow share.  We were especially pleased with our topline growth in personal care and D&E over the year."

Hsu continued, "Looking ahead, we will continue to invest in innovation, supporting our brands, and accelerating topline growth.  While we expect inflation and supply-chain disruption to persist into 2022, we are committed to recovering margins to pre-pandemic levels over time, and we are optimistic about gradual improvement later in the year.

We remain confident in the potential of our categories in the near and long-term, and in our ability to create meaningful shareholder value while we work to achieve our purpose of better care for a better world.  I am grateful for the incredible dedication of our talented teams in 2021, and we are committed to doing all we can to ensure a safe, healthy, and rewarding work environment in the year ahead."
Consumer Tissue Segment
Fourth quarter sales of $1.6 billion decreased 10 percent.  The net impact of the Softex Indonesia acquisition and exited businesses in conjunction with the 2018 Global Restructuring Program decreased sales 1 percent.  Volumes declined 7 percent and net selling prices decreased approximately 1 percent.  The volume comparison reflects elevated shipments in North America in the year-ago period to support higher consumer and customer demand related to COVID-19.  Fourth quarter operating profit of $201 million decreased 40 percent.  The comparison was impacted by lower organic sales and higher input costs.  Results benefited from cost savings and reduced marketing, research and general spending.
Sales in North America decreased 14 percent.  Volumes fell 10 percent in the quarter.  Net selling prices declined 4 percent as 2021 pricing actions were more than offset with lower promotion expense in the base period.
Sales in D&E markets increased 3 percent.  Net selling prices rose 4 percent, product mix improved 1 percent while volumes were down 3 percent.  The Softex Indonesia acquisition increased sales 1 percent.
Sales in developed markets outside North America decreased 6 percent.  Exited businesses related to the 2018 Global Restructuring program reduced sales approximately 5 percent while changes in foreign currency exchange rates decreased sales 1 percent.  Volumes were down 2 percent while net selling prices rose 1 percent.
2022 Outlook and Key Planning Assumptions
The company's 2022 outlook assumes no significant additional impact from potential supply chain disruptions as a result of COVID-19.  In addition, key planning and guidance assumptions are as follows:
Net sales increase 1 to 2 percent.

Organic sales increase 3 to 4 percent.
Foreign currency exchange rates unfavorable approximately 2 percent.

Operating profit down low to mid-single digits percent compared to adjusted operating profit in 2021.

Key cost inputs expected to increase $750 to $900 million. Costs are projected to increase or remain elevated for most inputs including purchased raw materials as well as for distribution and energy.
Foreign currency translation effects expected to reduce operating profit by 1 to 2 percent and transaction effects are also anticipated to negatively impact the comparison.
Cost savings associated with FORCE program of $300 to $350 million.
Marketing, research and general spending expected to be up year-on-year driven by general inflation, variable incentive expense and investments in the business.

Nonoperating expense expected to increase somewhat compared to adjusted nonoperating expense in 2021.
Interest expense expected to increase slightly.
Effective tax rate of 22 to 24 percent.
Net income from equity companies up somewhat year-on-year.
Earnings per share of $5.60 to $6.00.
Capital spending of $1,000 to $1,100 million.
Dividend increase of 1.8 percent (approved by the Board of Directors and as mentioned previously in this release). The quarterly dividend will increase to $1.16 per share, up from $1.14 per share in 2021. The first dividend will be payable on April 4, 2022 to stockholders of record on March 4, 2022.
Share repurchases of approximately $100 million.