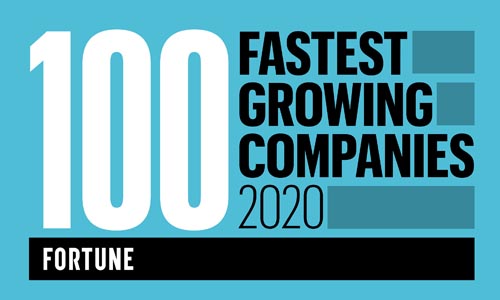 Kadant Inc. was included in Fortune's 2020 list of the 100 fastest-growing companies in the world. In its debut appearance on the list, Kadant was ranked by Fortune as one of the world's best three-year performers in revenue growth, EPS growth, and annualized total return for the period ending June 30, 2020. To be eligible, companies must trade on a U.S. stock exchange and report results in U.S. dollars, among other qualification criteria.
"We are delighted to be recognized as one of the top 100 fastest-growing companies, especially while the pandemic continues to present challenges to our global economy. This recognition is indicative of our continued focus on executing our growth strategies through technology innovation and our strong commitment to our customers," said Jeffrey L. Powell, president and chief executive officer of Kadant. "Kadant plays a critical role in solving process industry challenges with engineering expertise and solutions that reduce the utilization of natural resources, increase productivity, and minimize energy consumption to deliver the best possible solution to our customers."
More information about the 2020 rankings is available at www.fortune.com/100-fastest-growing-companies/2020. All registered trademarks are property of their respective owners.