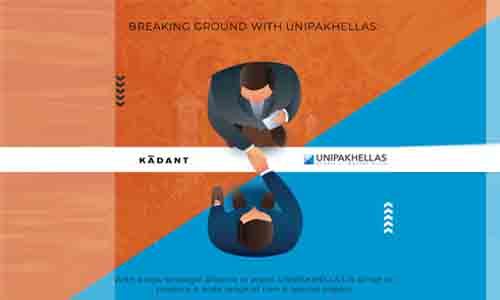 INDEVCO Group and KADANT LAMORT SAS have again joined forces to produce an enhanced series of paper products for UNIPAKHELLAS.
The fundamental motivation behind this collaboration is to leverage the flexibility of feeding the machine with different grades of pulp and, thus, producing various ranges of paper. The new line will yield unique paper ranges like polyethylene-coated paper.
A secondary motivation is to explore the possibility of using the broadest possible range of raw materials from local OCC and mixed waste to high-quality OCC, which is otherwise challenging to treat in stock preparation.
To achieve these goals, UNIPAKHELLAS has selected a comprehensive service package from Kadant Lamort SAS that includes engineering, erection supervision, commissioning, training, and start-up assistance.
Major aspects of the project include:
Revamping the existing stock preparation line
Recovering all existing equipment
Optimally processing a wide range of raw materials with a new stock preparation line with the Heli-Drum™ system
Install a new approach flow system with high-efficiency contaminant removal like the Radiclone™ hydrocycloing system for cleaning to obtain high-quality paper for the top ply and systems with slots screening like Periscreen™ machine screen
Install a new fiber recovery system and water filtration with a Rotoflex™ recovery strainer to help reduce freshwater consumption; in contrast, a reject compactor with a screw press will help minimize disposal cost
A special focus will be on lowering energy and reducing fiber losses with the new FiberNET™ and BoosTEK™ technology.
Kadant has a history of more than two decades with the INDEVCO Group, comprising many successful installations for recycled paper in Lebanon and Egypt. This latest initiative with UNIPAKHELLAS S.A. marks an exciting development in our ongoing collaboration as we work on pioneering cutting-edge technologies that can revolutionize the pulp and paper industry.
We're proud to be able to offer tailor-made solutions to our customers and are committed to minimizing fiber losses and providing sustainable solutions.