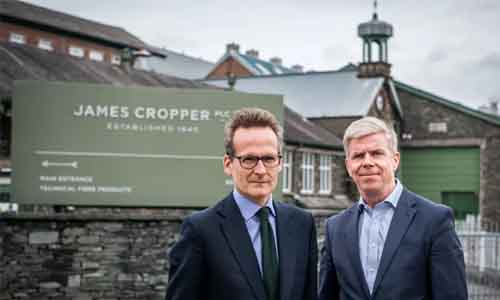 Since the appointment of Steve Adams as Chief Executive Officer in August 2022, the Company has made significant progress in repositioning James Cropper to capitalise on growth opportunities within its core and emerging end-markets. The fast-growing renewable energy and decarbonisation markets are creating an ever-greater need for novel and high-performance materials, while sustainable fibres, and low, or zero, carbon processing are driving growth within paper and packaging.
In order to position the company to accelerate growth, the Group is today announcing three strategic changes:
1. Brand profile: reorganisation and renaming.
2. A step change of investment in innovation and systems.
3. Streamlining the Paper division to improve productivity and margins.
Brand profile: reorganisation and renaming
The Group will invest in the James Cropper brand by reorganising itself from three separate divisions (James Cropper Paper, Technical Fibre Products and Colourform) into four market-facing segments, unified under the Group name:
James Cropper Creative Papers
The Group's historic business supplying specialist paper markets with a world leading range of coloured and embossed papers, and unique sustainable fibre options including CupCycling.
James Cropper Luxury Packaging
Incorporating James Cropper's multi-award winning Colourform moulded pulp innovation and the packaging papers made for the world's leading luxury brands.
James Cropper Technical Fibres
Core technical fibre markets including aerospace, defence, construction and industrial.
James Cropper Future Energy
Incorporating TFP Hydrogen, and including materials and products for fuel cells, carbon capture, batteries and wind.
The above segments will be managed under two Managing Directors covering paper products and advanced materials respectively.
The new brand strategy positions the Company across an exciting spectrum from heritage to cutting edge and leverages the brand value of the James Cropper name across all markets and geographies.
This will also generate a more focused operation and streamlined cost base with greater collaboration and sharing of functions across the Group.
The reorganisation and renaming will be delivered within the remainder of this calendar year.