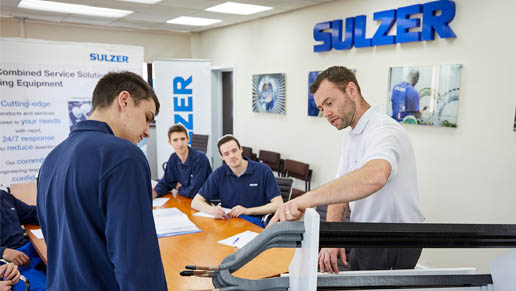 Sulzer employs seven apprentices at its Southampton facility
Engineers collect a vast array of skills and experience through their working lives and it is essential that these are passed onto the next generation to become tomorrow's engineers. Sulzer has a very long and distinguished history in delivering engineering solutions. In Southampton there is a strong focus on engineering and that is being supported by its continued investment in both apprentices and equipment.
Mechanical and electrical engineering have strong roots in Southampton, and they cater for a wide range of industries. Sulzer has provided expertise and facilities in Southampton for over 30 years and aims to build on this legacy through its involvement in local training programs and ongoing support of young engineers.
Simon Dawkins, General Manager, Operations, for Sulzer in Southampton, explains: "In order to maintain our excellent engineering knowledge we need to ensure that our more senior engineers pass on their knowledge and expertise to the next generation. There is no substitute for hands-on learning and by working beside an experienced engineer our apprentices have the opportunity to see highly skilled jobs being done first-hand."
Currently, there are five apprentices in training in Southampton, with two more due to start later in the year, and Simon is keen to maintain this high number in the future. Sulzer apprentices have an excellent record of remaining within the company and following a planned career path that helps them to develop further each year.
Diverse expertise
Sustainability is key and that needs the intake to be brought in early enough to ensure that the expertise is passed on and the engineers of tomorrow are properly trained and experienced in a wide range of applications.
Much of the equipment that comes through the workshops has been in service for several decades and that makes finding spare parts quite difficult. However, Sulzer has an excellent track record in reverse engineering, where new parts can be designed and manufactured based on measurements of the original part and extensive engineering knowledge.
Simon continues: "We have the largest rotating equipment repair capability in the Southampton area and for those projects that require rapid repairs to pumps or turbo equipment we can tap into the knowledge within Sulzer's UK network, which has considerable expertise in these areas. Together we offer the most comprehensive range of independent engineering services that can also be deployed on site."
Mike Driscoll, Operations Director of Southampton Engineering Training Association (SETA) explains Sulzer's role within the local engineering community: "Over the last 10 years, Sulzer has systematically engaged with apprenticeships, providing young people with quality training and career opportunities. Sulzer actively promotes engineering to young people within the Southampton catchment through providing work placements, tasters, attend career events and open evenings.
"As an 'ex' SETA apprentice himself, Simon understands the value of apprenticeships and has developed the scheme with SETA to ensure young people are inspired by quality training and qualifications as he received. We are delighted to work with such an inspirational employer and are proud of the young people we have trained who continue to add value to their business".
First-hand experience
To broaden customers' knowledge, the service center has planned a series of open days throughout 2019 where existing customers are being invited to visit the facilities. This offers the chance to see the latest investments in the workshops and gain a better understanding of the full range of services available. An open day targeted specifically at apprentices is also on the cards with a chance for them to get a taste for Sulzer's capabilities first-hand.
Sulzer has a strong heritage of retaining experienced staff and many in the Southampton service center have been with the company for 30 – 40 years. It is very important for the continued growth of the company that these experienced colleagues share their knowledge with the next generation. In this way, customers will benefit from an accumulated knowledge that can be applied to a variety of industrial applications.
Simon concludes: "Having started my career in 2002 as an apprentice at Sulzer, I would like to continue to build on the legacy of training at Southampton. It's important to pass on the knowledge and opportunities given to me by the highly skilled engineers and managers I've had the privilege to work with and who taught me.
"We aim to grow these long-term partnerships with both our customers and employees to ensure we continue to deliver a proactive maintenance solution that minimizes downtime and improves productivity. The on-going investment in our team and facilities will ensure that Sulzer continues to lead the field for independent maintenance services."