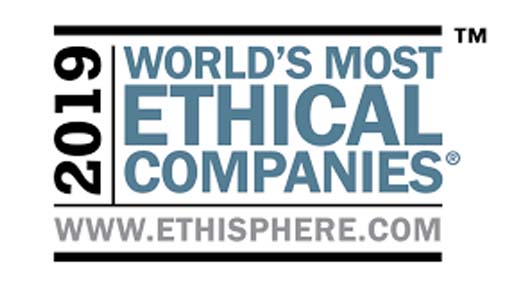 International Paper has been recognized for thirteen consecutive years, and is one of only two honorees in the forestry, paper and packaging industry, underscoring their commitment to leading with integrity and prioritizing ethical business practices.
In 2019, 128 honorees were recognized spanning 21 countries and 50 industries. The thirteenth class of honorees illustrate how companies continue to be the driving force for improving communities, building capable and empowered workforces, and fostering corporate cultures focused on ethics with a strong sense of purpose.
"It is an honor once again to be included on this list and to be among companies whose principles and practices uphold the highest standards of ethics and corporate social responsibility," said Sharon Ryan, General Counsel and Corporate Secretary. "Our work does not stop inside International Paper, we expect our business partners to share our values and principles as described in our Supplier Code of Conduct. Throughout our global supply chains, we promote safe and healthy working conditions ; high ethical standards ; protection of human rights and dignity ; responsible use of natural resources and compliance with all applicable laws."
"Today, employees, investors and stakeholders are putting their greatest trust in companies to take leadership on societal issues. Companies that take the long view with a purpose-based strategy are proven to not only outperform but last," said Ethisphere's Chief Executive Officer, Timothy Erblich. "I congratulate everyone at International Paper for earning this recognition."
Methodology & Scoring
The World's Most Ethical Companies assessment is based upon the Ethisphere Institute's Ethics Quotient® (EQ) framework, which offers a quantitative way to assess a company's performance in an objective, consistent and standardized manner. The information collected provides a comprehensive sampling of definitive criteria of core competencies rather than all aspects of corporate governance, risk, sustainability, compliance and ethics.
Scores are generated in five key categories : ethics and compliance program (35 %), culture of ethics (20 %), corporate citizenship and responsibility (20 %), governance (15 %) and leadership and reputation (10 %). All companies that participate in the assessment process receive their scores, providing them with valuable insights into how they stack up against leading organizations.