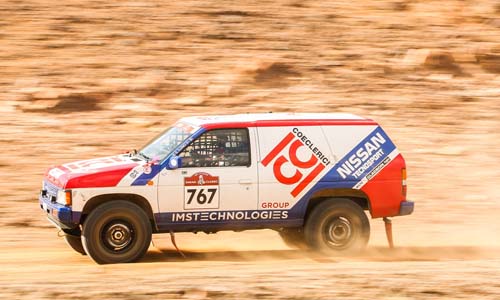 IMS TECHNOLOGIES, leading company in the engineering and manufacturing of high–tech customized machinery operating in the converting market through its world–renowned brands GOEBEL IMS, LAEM IMS and ROTOMAC, and its parent company Coeclerici are among the protagonists of the 44th edition of the famous Dakar Rally – formerly Paris–Dakar, which is being held in these days in Saudi Arabia.

Specifically, IMS TECHNOLOGIES and the Coeclerici Group are sponsoring one of the four crews of the Tecnosport team running at Dakar 2022, represented by Giacomo Clerici, Managing Director of Coeclerici Far East, and the co–driver Oscar Polli. They are competing at the wheel of a 1997 Nissan Terrano in the Classic category, reserved for vehicles produced before 2000.

The race, which started on January 1st from Ha'il, will end, after 12 stages, on January 14th in Jeddah and will cover a distance of over 8,000 kilometers, 4,300 of which are special challenges. The route immediately proved to be very challenging both for the sand dunes, which represent a major technical difficulty, and for its duration and, finally, for the bad weather that accompanied the first days of competition.

In addition to cars, motorcycles, trucks, quads, side–by–sides, light prototypes take part in the rally. From 2021 also "historic" cars, i.e. at least twenty years old, compete in the Classic category, which this year has seen a significant increase compared to last year, rising from 30 to 148 vehicles.There are over a thousand competitors registered for the Dakar 2022, including drivers and co–drivers, for a total of around 500 vehicles and 63 nations represented.

The passion for challenges, resilience and technological excellence bind IMS TECHNOLOGIES and Coeclerici Group to this epic competition. All our support goes to our brave team!