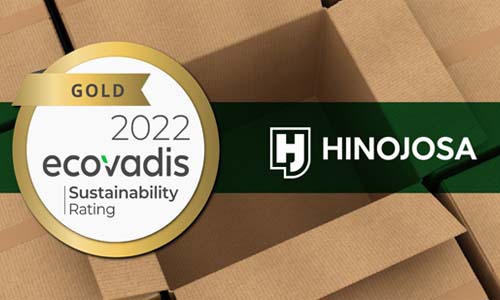 Hinojosa Packaging Group, a leader in sustainable packaging solutions in Southern Europe, has assessed their management through the EcoVadis platform once again this year. This action forms part of Hinojosa's sustainable growth strategy, with the purpose of increasing the common welfare through the development of packaging that respects society and the environment.
The group has been audited through the well-known external platform, at a time when the assessment of non-financial management systems is becoming increasingly relevant and sought after by customers. The impact of their activity is measured in the following four areas: the environment, labour and human rights, ethics and sustainable procurement.
After a thorough review of the above criteria, Hinojosa has improved on last year's score both in Spain and internationally, increasing their overall score from 64 to 71. As a result, EcoVadis has granted the Gold Medal Award to Hinojosa, ranking it in the top 4% of companies out of more than 90,000 that make up the platform.
This result has been achieved due to the 137 strengths in management that have been identified, among which an improvement in the area of ethics is particularly notable this year, with an increase of 20 points on last year's result. Moreover, 16 improvement areas have been identified, and the company is already working hard in order to continuously optimise sustainable management.
This assessment, alongside those conducted on other platforms, such as Sedex and CDP, ensure that the company manages the business sustainably, thus guaranteeing better transparency and traceability for customers. To the same end, Hinojosa endeavours to communicate their achievements in management in their Sustainability Report.