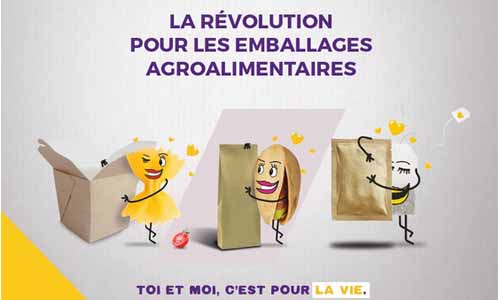 For the past 4 years, the department of Guyenne Papier, a French company with the Entreprise du Patrimoine Vivant (Living Heritage  Company) label, has been working on a coating process that transforms "traditional" paper into packaging paper, to offer a truly ecological alternative to plastic. This paper is now able to replace traditional plastic packaging, which is not very recyclable and is a source of pollution.
How did the idea come about?
Finding a paper capable of replacing plastic films in packaging is not a new idea, since it is ultimately a question of going back to the very origin of paper, which has always been used to package food and organic matter. Guyenne Papier wants to offer natural and recyclable  papers, in line with today's major ecological challenges, other than films and plastics or paper and polyethylene complexes.
What is the real innovation?
What is new is that Guyenne Papier's R&D department in Thiviers, Dordogne, has developed a whole range of papers called SuniBarrier, which are not only water, grease and water vapour resistant, but also heat-sealable and over 95% recyclable (for real). Unlike other products, Guyenne Papier's products are free of fluorinated resins, chlorine derivatives (PVdC), PVA and plastic film (no PE -Polyethylene or other PET Polyethylene Terephthalate). The work of more than 4 years has finally come to an end, resulting in this brand new range of barrier papers.
Why a "barrier" paper in 2022?
We all have a role to play in reducing our ecological footprint and single-use plastic is an ecological aberration. Guyenne Papier has succeeded in replacing this plastic with recyclable or biodegradable paper, 100% biosourced. A green paper in a way, with no impact on the  environment.
What is the challenge of this paper?
Very clearly, it is to meet the requirements of brands, particularly for the food industry, which must comply with new laws on packaging, with the implementation of the AGEC law (anti-waste for a circular economy) and its increase in power on 1 January 2022 (with the ban on the use of plastic packaging for fruit and vegetables and non-biodegradable plastic tea bags, for example). Paper is a natural material. The cellulose that makes it up disappears in nature.
The challenge for Guyenne Papier is therefore to make paper, a material that is by definition porous, a barrier to water, water vapour and grease, technically comparable to the properties of plastic films. We are currently working with several sectors interested in this product. The challenge for Guyenne Papier is therefore to offer a paper material with high technical protection and barrier properties, which can be recycled and biodegradable. And we can now say that this has been achieved.
A first successful concrete product application and a wide range of possibilities
The company, located in the New Aquitaine region of France, manufactures tea bag packaging made from 100% biobased paper. This product is greaseproof and heat-sealable, while being plastic-free (for real), recyclable and biodegradable. Guyenne Papier now works with numerous partners in several types of industry: food processing in particular, but not only! Guyenne Papier brings its expertise and technical skills to bear on the manufacture of concrete products that are now reaching consumers' hands: ready-to-use salad sachet packaging, butcher's and fishmonger's trays, cereal packaging, screw sachets… the possibilities are endless!