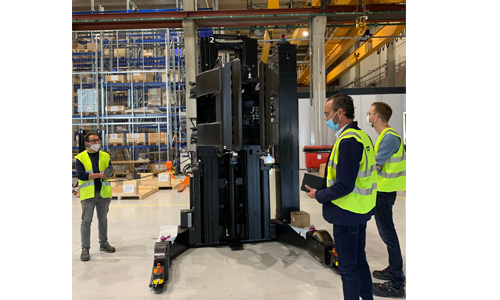 GT Logistics, which won the first logistics outsourcing contract for Papeteries Saint-Michel (PSM, near Angoulême, France) in 2018, is completing phase 2 of the finished product management automation project. In this two-year project the logistics service provider has invested nearly € 1.5 million.
Part of the Thiollet Group, Papeteries Saint-Michel (PSM) chose GT Logistics in 2018 to take over the management of logistics activities at this paper mill specialized in the manufacture of Corrugated Case Material (CCM). This initial outsourcing provided for the deployment of a 2-step solution: the resumption of logistics activities identical to the start-up with forklifts and trucks and a second phase of automation of the management of finished products, subject to 2 years major works and investments. It is the combination of this innovative solution that distinguished GT Logistics in the response to the call for tenders.
The contract started in June 2018 with the supply of the production chain with RPC bales (Recycled Paper and Cardboard) and the storage of finished products (rolls) over a distance of 400 meters which separates the production of warehousing with a 24 / 24H and 7 / 7J working rythm.
Meanwhile, the civil engineering and process reengineering project was launched. GT Logistics financed the construction of the 400-meter corridor between the production exit and stocks to the tune of € 1 million and the AGVs responsible for transporting finished products to the storage areas for € 450,000. The line output will also be automated, via conveyors and an automatic rectifier which will provide the rolls which will be labeled before being taken over by the AGV.
The AGVs were selected after a process carried out by GT Logistics with specialist market players. It was the Finn Rocla who was finally selected. The AGVs arrived at the Angoulême site in September after a test carried out by GT Logistics and PSM, accompanied by Aprolis, distributor for France at the manufacturer. Their commissioning is conditional on the completion of civil engineering work on the transfer tunnel.
This automation is part of a social approach to lighten the work of forklift operators and strengthen their safety by eliminating night and weekend work while maintaining all staff. The acceptance and testing phase is expected to end in February for deployment in early spring 2021.
This structuring project is a real lever of modernization for Papeteries Saint-Michel. "We go beyond simple logistics outsourcing by entering into a more advanced partnership with our client and an innovative approach. It is a new showcase of our expertise that we will be able to show industrialists", comments Victor Yzerd, manager of innovative projects.
Valérie Lechiffre