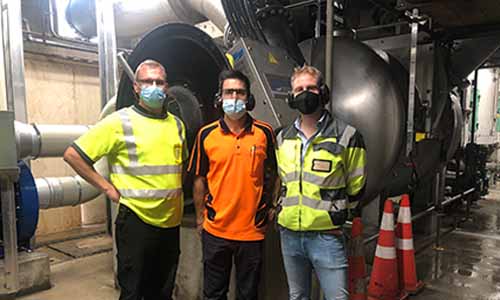 Runtech Systems-supplied vacuum system rebuild has been successfully started up at Essity AustralAsia (formerly Asaleo Care), New Zealand.
"This is an exciting project for our site. Our previous vacuum system was oversized, inefficient and had reached the end of its life. The new Runtech system has reduced our power consumption by over 700kW and we are pleased with the performance of the machine. The dewatering measurements (EcoFlow) are a great new feature, which will enable us to further optimize the operation. Despite the challenging travel restrictions Runtech were cooperative during the commissioning phase and ensured the project was delivered successfully." says Matthew Bain, Project Manager, Essity AustralAsia.
During rebuild, the old multistage blower was replaced with new speed controlled EP600 Turbo Blower with ABB frequency converter, low vacuum blower for wire section vacuums, EcoDrop water separator and EcoFlow dewatering measurement for press suction roll save-all and felt uhle box. With the new vacuum system, the mill is able to lower their energy consumption significantly – the power savings achieved exceed 700kW.
"Cooperation was the key to success. Given the travel restrictions it was important to plan every detail carefully in advance. Now our first Turbo Blower in New Zealand is running and will provide the mill with energy savings and needed vacuum capacity for many years to come," says Hannu Kääriä, Sales Director, Asia-Pacific, Runtech Systems.
RunEco EP Turbo Blower is a totally water-free solution with heat recovery potential. New EP600 Turbo is single-stage speed-controlled blower. With integrated high-speed motor controlled by an ABB frequency converter, rotation speed and vacuum level can be adjusted according to the process requirements. Its compact design makes it ideal for rebuilds and also reduces installation costs.
EcoFlow dewatering measurement are designed to measure water flows online accurately and are not sensitive to entrained air or foaming. Measuring dewatering rate enables vacuum level optimization, resulting in maximized sheet dryness after the press section.