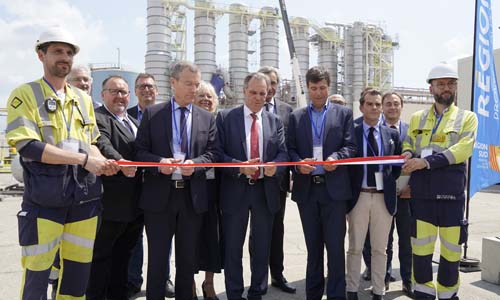 The Fibre Excellence Provence pulp mill in Tarascon, southern France, inaugurated its new BioWatt turbine on 5 June in the presence of local politicians and representatives. Valued at around €53m, this operation is part of the site's overall €180m investment plan. The aim is to bring the site up to the highest industrial and environmental standards, thereby ensuring its long-term future.
The implementation of the BioWatt project will enable the plant not only to accelerate its production of renewable energy to supply the region with biomass electricity, but also to make better use of wood residues from pulp production, as part of a circular economy.
Thanks to a cogeneration boiler equipped with a steam turbine twice as powerful as before (25 MW), the project will increase the site's overall electricity production capacity by 50%. This production will supply the plant, with the surplus fed back into the Tarascon public grid, making the region more energy independent. Commissioned when the site was taken over in summer 2021, the turbine took 18 months to build, from delivery to installation and commissioning.
Among other projects, between now and 2025, an oxygen delignification plant will bleach pulp using oxygen, drastically reducing the use of chemicals when the mill resumes production of bleached pulp – it currently produces exclusively unbleached pulp to avoid using these products. This installation will also enable the site to position itself in the production of 'fluff' pulp, used for sanitary products (such as nappies), which is currently entirely imported, and thus contribute to the relocation of industrial sectors on the European market.
Through its production activity and the implementation of its transformation plan, Fibre Excellence Provence injects around €100m into the local economy every year and contributes to 5,000 indirect jobs within the industry.
V. L.