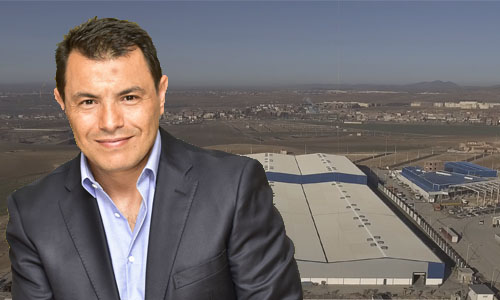 Increasing profitability and production of tissue products, including sustainable ones, in a rapidly growing market: this is the challenge, accepted by Körber Business Area Tissue, presented by Faderco, a leading company in hygiene products in Algeria.
Amor Habes, Faderco's General Manager, comments: "The market for tissue products in our country is evolving rapidly. Our company needed not only to increase efficiency and productivity — also following the purchase of a new paper mill — but also to have a product that stood out on the shelf for its quality and eco-sustainability. As a strategic response, also strengthened by an almost ten-year-long collaboration with Körber, we decided to invest in Perini Constellation ™ S6 technology, complete with wrapping, bundling, and engraving solutions equipped with the Aquabond system".

Sandro Magnani, Sales Manager for the Business Area Tissue, comments: "Körber offers fully integrated solutions for converting, packaging, engraving, and after-market. With this investment, Faderco can access the best technology and optimize its production efficiency. Our technology has a strong focus on the final product, a competitive advantage for a company that focuses on high quality and differentiation in order to be competitive."
The benefits of the Perini Constellation ™ S6 lines include improved product quality, simplified line operations, and increased efficiency. Performance and quality are stable, the machine speed is three times higher — up to 45 logs / min and a speed of 600 m / min — and volume is increased to up to 40% with the same paper. Thanks to Perini Constellation ™ S6, Faderco has managed to increase productivity of the Faderco system by over + 40%.
The Constellation technology is a real breakthrough innovation that has led to the sale of over 100 lines worldwide in the last five years. Constellation offers smooth rewinding at all speeds and perfect rolls from first to last sheet — close to 100% of global customers are satisfied with product quality, and over 85% reported improved operational efficiency of at least 10% .
Faderco's need was not only to achieve high levels of performance quality, but also to differentiate itself on the shelf with eco-sustainable products. For this reason, the line has been equipped with Aquabond, the sustainable and efficient water-laminating solution.
The chemical adhesives that are normally used, in fact, are based on vinyl and nonrenewable raw materials. By eliminating them from the production cycle through Aquabond it is possible to pursue the philosophy of eco-sustainability, one of the key points of Faderco's development.
Aquabond not only guarantees an environmentally sustainable, soft, and smooth final product but also impacts the manufacturer's costs, eliminating those for the glue in embossing, and the line's efficiency.
This type of embossing eliminates the problem of adhesion and winding of the paper on steel rollers. The anilox and the cliché rolls, the doctor blade unit, and the embosser remain clean, and the continuous stops to the entire line to carry out cleaning and lubrication of the rollers are avoided. All this has led to a productivity advantage quantifiable in 5 percentage points of machine efficiency.
Finally, the Perini Constellation ™ S6 Line is equipped with the Easy HMI panel, the operator friendly control panel that allows the operator to manage the production parameters. Constellation S6 can process any type of product.
Constellation makes the life of operators so much easier than ever before. It's enough to set just a few parameters and all the rest will be taken care of by this Smart Machine.