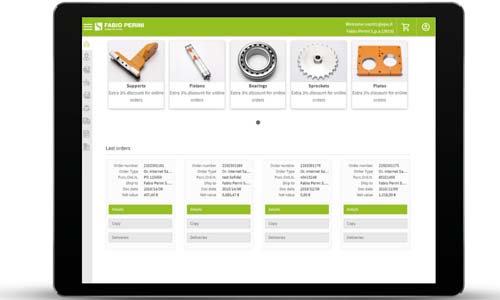 In a single environment the complete view of orders with full control of the purchasing process in all its stages
The new Spares On Line (SOL), the webshop dedicated to spare parts for the entire installed base of Fabio Perini customers, has been launched.
Since its initial launch in 2015, the platform is now used by more than 150 customers worldwide for a total of over 300 active users who use it daily to buy and monitor the shipment of spare parts.
Fabio Perini's webshop is part of the Customer Service Portal, the private area where customers can find all the information and history of their lines, reports on technical interventions, detailed documentation of the machines, upgrades made and those recommended, training courses tailored to their installed base, and for some months now also access to the Tissue Data Cloud and Digital Shift Support.
"The new webshop – comments Adriano Rubichi, Project Manager of SOL – is a service dedicated to all our customers and is completely free; inside there are more than a million codes between commercial, design and assembled systems: the customer can then search and find all spare parts for their machines, ready for delivery or to order. Within Spares On Line the customer can keep under control all the stages of the order: check the availability of the warehouse and the delivery dates in real time, print commercial documents and track the order until delivery to its plant".
Many new features have been implemented thanks to the collaboration with several customers who have identified Spares On Line as a strategic asset for the competitiveness of their business, both in terms of maintenance and administrative efficiency and in the delicate management of spare parts in stock.
This instrument offers to the customer the new complete view of spare part management in a single environment, whether the spare part has been ordered through a traditional channel (by phone or email) or whether the order has been placed independently on the web.
Thanks to analytics, the webshop is able to identify and customize the best purchasing solutions for each customer in order to ensure maximum availability and efficiency of production lines.
The new webshop also allows the creation of wishlists to be shared between the various production sites of the customer respecting any workflow authorization for the purchase.
Finally, the implementation of an enhanced search tool will allow users to reduce the time of navigation and purchase. The customer can find the items using their own material codes, importing code lists from an excel sheet or copying orders that were previously made.