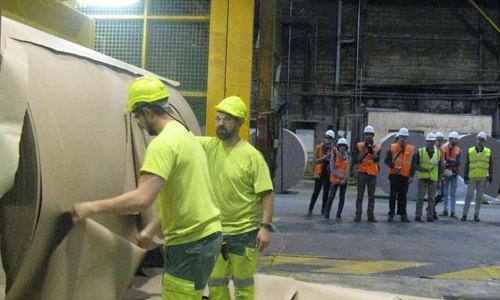 Etex wishes to withdraw from the company Papeterie de Bègles and is embarking on an active search for a buyer capable of enhancing the industrial strengths of the site and of continuing its commercial activities.
Located on the outskirts of Bordeaux (South-West of France), this factory is the group's only paper mill. Employing 90 people, it manufactures and markets paper for plasterboards, produced from recycled fibers. The site operates within the "Building Performance" division of the Belgian building materials specialist Etex, to whom it sells almost all of its production at market price.
According to Etex, despite its strategic location and sustained efforts to improve its competitiveness, the paper mill has been facing "structural economic difficulties" for several years. The health crisis has only worsened an already worrying situation, with several million euros of losses expected for 2020. According to Etex, "massive investments, estimated at 50 M €, which would allow the site to narrow the gap of competitiveness with the standards of the activity, would not however be sufficient to enable it to compete with international competitors specialized in this sector of activity and which have production capacities up to five times greater. "
Faced with an economic outlook deemed "very uncertain", the group believes that it cannot devote such an amount of investment to an activity that is not its core business. Etex wishes to refocus its resources, both financial and operational, on its strategic activities.
The company announces that steps have therefore been taken to identify potential buyers with a view to developing a new industrial activity promoting the recruitment of site employees. A support plan for each of the employees who would be affected will be put in place, in agreement with the employee representatives, in order to achieve as many internal and external reclassifications as possible.
The management of Papeterie de Bègles wishes to "engage in a constructive and responsible dialogue" with all stakeholders, in order to redefine the site's economic and social future, by identifying and selecting the best buyer.          Valérie Lechiffre
Established in 1905 and based in Belgium, Etex is a family business, an international specialist in building materials. It employs more than 13,000 people worldwide and operates 101 production sites in 42 countries. In 2019, its turnover reached € 2.9 billion and its REBITDA amounted to € 483 million.