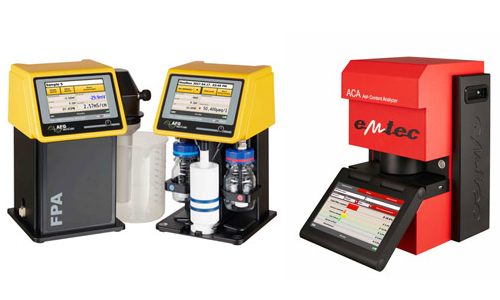 How does your pulp compare to others and which properties can be measured to improve quality?


emtec Electronic presents the TSA Tissue Softness Analyzer as well as the CAS touch! and the FPA touch! at this year's Tissue World Miami at booth G51 from March 11th to 13th in Miami, USA.
The emtec TSATissue Softness Analyzer is a multi-functional measuring device for the objective assessment of softness, roughness and in-plane stiffness of tissue products and calculates the "Handfeel" value adapted to the respective market and product. These individually measured parameters are used for quality control, help in product and process optimization, and can also be used to develop new products. Participants at the trade show can have samples measured and evaluated directly at the booth using the TSA.
The CAS touch! Charge Analyzing System and the FPA touch! Fiber Potential Analyzer will both be presented at Tissue World Miami, too. The CAS touch! measures trash particles in the pulp, which helps to optimize the use of chemicals, to reduce costs and to improve both, product quality and runnability.
The FPA touch! (Fiber Potential Analyzer) measures the surface charge of the fiber and helps the paper, tissue and corrugated board manufacturers, but also the chemical supplier, to optimize the use of chemicals. As a result, product quality can be improved and runnability and production output can be optimized.
"I am looking forward to the exchange with our customers and to the feedback about their experiences with our measuring instruments. This is the only way we can further develop ourselves and our products. It is important to us that we improve and, above all, facilitate the daily work of our customers with our products", says Alexander Gruener, Area Manager at emtec Electronic. He will be supported by Eric Haagen from the emtec Sales Department at emtec Electronic.