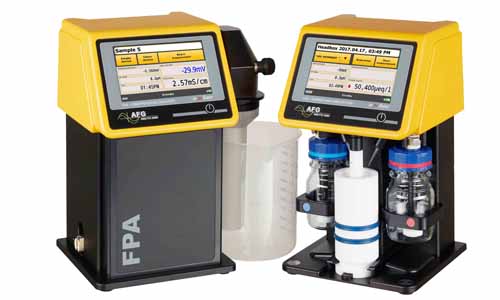 Emtec test equipment enables a very exact evaluation of the relevant paper and board properties

From February 12th to 14th emtec presents its innovative measuring instruments for the pulp, paper and board industry at the ACOTEPAC conference (booth no. 56). The use of these devices enables a more efficient and reliable process and quality control from the wet end to the finished product and helps to achieve the best possible quality at the lowest possible costs.
At the ACOTEPAC interested visitors can take a look at the Charge Analyzing System CAS touch! and the Fiber Potential Analyzer FPA touch!, two devices, which measure the particle charge and the surface charge of fibers. The easy handling, light weight and small size makes them an ideal partner. What the FPA touch! achieves with high accuracy in the laboratory, its "big brother", the emtec Fiber Potential Analyzer Online FPO achieves directly in the production process, to which it is directly connected. Up to four fully automatic measurements per hour are possible. The results can be provided online, but can also be transferred to the computer system of the mill. The permanent control allows an immediate reaction, in case it becomes necessary.
Together with our Colombian partner Alberto Marin, from Elof Hansson, our area manager, Daniel Ohndorf, will attend the conference of the Colombian papermakers once again in 2020. Besides the wet-end test devices CAS touch! and FPA touch!, the EST12 emtec Surface & Sizing Tester will be presented at the booth. By the help of the device, the surface sizing or more general the surface hydrophobia and the surface pore structure of paper and board can be evaluated. Both parameters have a big influence to the converting relevant quality characteristics printability, coatability and gluability.