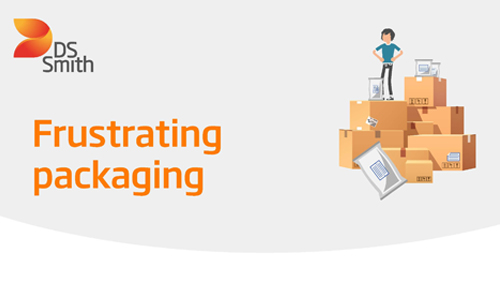 As Europeans are busy completing the last of their shopping and putting the finishing touches on Christmas, new research from leading sustainable packaging provider DS Smith has revealed a scourge on their time: packaging that leaves even the most patient person frustrated.
Robyn Macdonald, Inclusive Design Lead at DS Smith said, "These shocking results show that problem packaging isn't just a nuisance, it's a real issue that's affecting millions of people and making them feel less included at special times like Christmas.
"It's simply not good enough that brands and online stores aren't taking a more inclusive approach to their packaging. At DS Smith we are passionate about offering packaging solutions that help everyone. We have engineered boxes that are easier to open and typefaces that make products easier to identify. These not only benefit those who struggle with grip strength or sight problems, they make life a bit easier for the majority of the population.
"The rise of e-commerce is meant to make getting what you need easier than ever – but as this research shows many brands and online shops are falling at the last hurdle: making the packaging easy to open. With Europeans reporting issues with lots of products it is this ignorance that is hitting them in the pocket and potentially costing them billions of pounds."
As part of our research into the frustration around opening packaging, our team of experts have given their top tips for getting into the most frustrating parcels and packing:
If there's too much tape and you're struggling to peel it off, push down on the points either side of the tape where the side of the box meets the top. This will create a gap between the tape and the box so you can grab the tape and peel it off.
For hard plastic packaging, a can opener with a safety cap can help to open them up. Simply place it on the edge, then work your way around the pack.
If heating the lid with warm water doesn't work, you can unseal stubborn jars by getting a little creative with duct tape. Line the bottom edge of the tape with the bottom of the lid and wrap the tape around a third of the lid. Push it down across the lid and fold the excess tape in half.  Now grab the excess tape and pull it to loosen the lid.
If small items are proving tricky to grip, try wrapping rubber bands around them. For bigger items consider wearing washing up gloves to improve your grip.
If you can't get a grip on the sticky tape or a well stuck down envelope, give it a blast with a hot hairdryer – the heat will loosen the bond between the glue and the packaging making it much easier to lift off.
For tough to grip ring pulls (on canned foods and drinks), use a teaspoon as a lever to gently lift the ring pull up so it is easier to pull back.