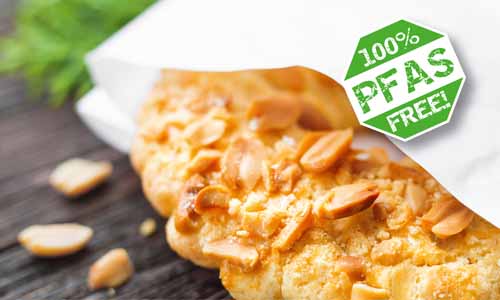 As the end of the year approaches, the production of the forever-chemicals PFAS is also coming to an end. These have played a significant role in the paper industry, especially in the production of greaseproof papers.
The impending regulation of the use of PFASs presents the industry with the challenge of finding suitable alternatives that meet the high requirements for  greaseproofing, food safety and recyclability. From the beginning of next year, the FDA (Food and Drug Administration) and the major US manufacturers of these chemicals have decided to phase out production and only sell residual quantities. Time is pressing to switch to environmentally friendly and sustainable alternatives.
At DREWSEN Spezialpapiere in Lachendorf, PFAS-free greaseproof papers have been successfully produced and sold under the name PROBARRIER Nature since 2017. The paper is now available from grades as low as 32 g/m².
"We are aware that the transition to PFAS-free paper grades involves a certain amount of effort for our customers." Managing Director Dr Matthias Rauhut says. "One of our strengths is to support our customers in the best possible way and, in addition to our standard solutions, to develop customised solutions that are tailored to individual needs."