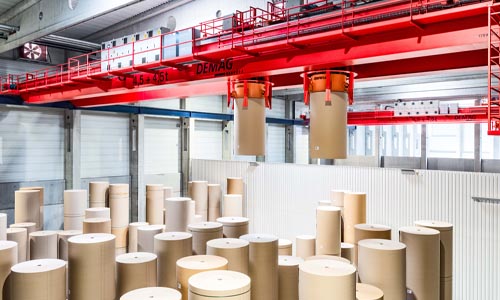 Demag's new product DCBS was launched at an event, which was part of Demag's celebration of 200 years in business.
Demag, whose core competencies are industrial cranes, crane components and industrial drive solutions provides a new solution that will affect the entire production chain with its new product DCBS chain hoist. DCBS is a compact hoist which, with its smart control system, makes assembly and, in particular, joining processes even simpler and safer. At the launch in Salzburg, Austria, Klaus Hoffmann, Vice President of Demag indicates that what sets the DCBS apart from other chain hoists, however, is its integrated balancer function, which has been adopted from the Demag D-BE electric balancer. It makes work easier for the operator, enables very precise and safe load handling and also opens up new tasks beyond the lifting of loads. The operator actuates the D-Grip Servo control handle, and the load with a maximum weight of 125 or 250 kg is raised or lowered by an electric motor. The DCBS will be launched to the global market at the end of the year.
Laakirchen Paper mill near Salzburg has one of the successful applications which Demag provides many industries worldwide with its process cranes. Demag has installed a fully automated paper roll store with two Demag process cranes for Laakirchen Papier AG. The cranes work in the roll shipping store with two open winch crabs that can travel independently on each Demag crane. As part of the Heinzel Group, Laakirchen Papier AG produces paper for publications and packaging on its two PM10 and PM11 paper machines. The resulting investment in a new paper-roll shipping store is an important part of the growth strategy pursued by Heinzel Group, which has set itself the goal of becoming the most competitive and eco-friendly paper factory in Europe. "With our new fully automated crane store we can load approx. five trucks per hour. We save around 30% loading time compared to a ground storage system", explains Dr Thomas Welt, CEO of Laakirchen Papier AG.
Demag has more than 70 fully automated crane stores and 170 installed cranes worldwide.