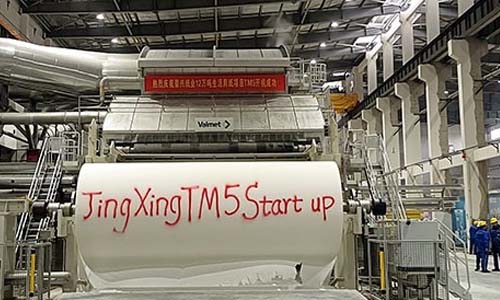 On January 18, 2022, a new Valmet Advantage DCT 200 HS tissue line equipped with a Focus rewinder successfully started up at Jingxing Paper's Pinghu mill.
The new TM5 is one of two Valmet tissue lines ordered by Jingxing Paper last year. The other line, TM6, is expected to start up at the end of April this year. The two new lines will add 120,000 tons of household paper to Jingxing's annual production.
Zhu Zailong, chairman of Jingxing paper, fully affirmed the start-up:
"Valmet's team is very professional and has high degree of engagement. The project execution process was well managed, with a good atmosphere and cooperation between the two teams. The TM5 machine started up according to schedule and the whole process went smoothly. We expect the new production line will improve the product quality, save energy, and reduce environmental impact.

Zhu Zailong, Chairman of Jingxing Paper and Fan Ze, Vice President, Sales, Valmet, attended the launching ceremony:
"Our warmest congratulations to Jingxing for the successful start-up of the new TM5. I am very pleased that we in Valmet got the opportunity to support Jingxing's tissue business development.  TM5 is equipped with Valmet automation system and high-performance rewinder. We are convinced that Valmet's advanced technology, automation and services will provide good performance through the whole life cycle, contributing to the development of the Jingxing business"
Technical information about the project
TM5 Tissue Machine has a width of 5,6 meters and a design speed of 2000 m/min. It will produce natural antibacterial, high quality tissue paper from virgin fibers. The tissue line is optimized to save energy and improve product quality.
The complete tissue line includes a Valmet Advantage DCT 200HS tissue machine equipped with an OptiFlo headbox and a steel Yankee cylinder. Other Advantage tissue production technologies, such as ViscoNip press, AirCap hood, WetDust dust management, web transfer system and SoftReel P reels, are also included in the supply. Three Valmet Focus rewinders was also part of the delivery.
Furthermore, the delivery included a complete automation package with Valmet DNA machine control, process control and Valmet IQ quality control system. Full engineering, installation supervision, training, start-up and commissioning are also included in the supply.