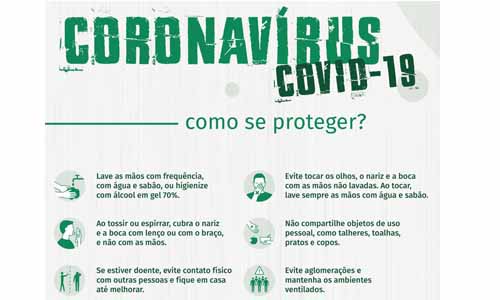 CMPC, a major employer in the Brazilian state of Rio Grande do Sul, is adopting coronavirus prevention practices among its employees and service providers. Among the measures in force are remote work for at least 14 days for administrative functions, suspension of all national and international air travel, and the recommendation to give preference to videoconferences, replace operational meetings with calls and text messages, in addition to avoid participating in external events with crowds of people, such as lectures, fairs or seminars.
The company will also increase the fleet of buses for transportation on the way to the unit to reduce the number of people transported in a single vehicle; perform the measurement of the temperature of the employees when they enter the charters, in case of fever the employee will not go to the company and must seek the health agencies; and extend lunch hours by one hour to avoid crowds in the cafeteria.
In the Guaíba mill, more hydroalcoholic gel dispensers were placed and the frequency of cleaning and sanitizing buses and common areas increased. If any CMPC employee presents the symptoms of COVID-19 (dry cough, fever and difficulty breathing) at the workplace, he / she must immediately report it to the company's Medical Center, which will be attended 24 hours a day. After the evaluation, the employee will be referred to the appropriate service.
"We are at a crucial moment to unite public and private initiatives to combat the spread of this epidemic in Rio Grande do Sul and Brazil. All individual and collective measures adopted will make a difference in order to preserve our health and that of other people more vulnerable to infectious diseases, such as the elderly, in addition to avoiding overcrowding in hospitals and health posts ", explains Mauricio Harger, director general of CMPC.