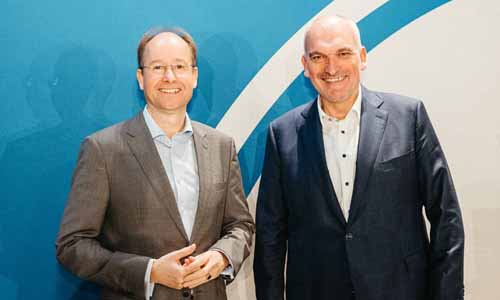 The PAPERINDUSTRIE association (Germany) has a new president. The general meeting elected Hans-Christoph Gallenkamp to head the association.
Gallenkamp is CEO of the specialty paper manufacturer Felix Schoeller based in Osnabrück. He is the fifth generation to run the family business. Gallenkamp takes over the leadership of the association from Winfried Schaur , Executive Vice President Technology and UPM Biorefining, who has been President of DIE PAPIERINDUSTRIE since 2017.
There were also changes in the executive board: in addition to the previous vice president, Dr. Christopher Grünewald , Managing Partner of Grünewald Papier GmbH & Co. KG, and Ulrich Wienbeuker , Vice President HR Services UPM-Kymmene Corporation, he now owns Maximilian Heindl , CEO of Progroup, and Dr. Benno Hundnatal, Director Group People & Culture at WEPA. Martin Krengel , CEO of WEPA, and Matthias Simon , Managing Director of Kanzan Spezialpapiere, have left the committee.
At the event and the accompanying PAPER SUMMIT, the outgoing and new presidents referred to the importance of the paper industry as a solution provider for the successful further development of the German industry. In this context, both underlined the importance of the bridge electricity price for the energy-intensive paper industry in order to be able to compete internationally in view of the high energy prices in Germany and to be able to cope with the transformation. The extension of the peak compensation is also urgently necessary. Alternatively, the electricity tax should be reduced to the European minimum.
As a guest speaker at the PAPER SUMMIT, which took place at the same time, the deputy chairman of the CDU/CSU parliamentary group Jens Spahn criticized the federal government's inadequate industrial strategy: "The traffic light government has been discussing high electricity prices for months, but has not decided. Reducing the electricity tax would help energy-intensive companies quickly and unbureaucratically. Now is the time to act."