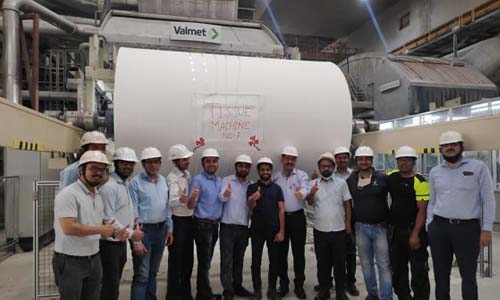 Equipped with leading technologies and the promise to deliver highly efficient performance, Century Pulp and Paper has commissioned its second tissue paper machine supplied by Valmet. It's the first company in India to install a tissue line that has Valmet Advantage ViscoNip press.
The new production line will add over 36,000 tonnes per annum of high-quality facial tissue, toilet tissue, kitchen towel and napkin grades to the company's current annual production capacity. TM 7 has a deckle width of 285 cm and a design speed of 2,000 m/min.
The combination of the state-ofthe-art pressing technology and Valmet Advantage ReDry will provide significant energy savings, uniform moisture profile and nip-load flexibility up to 150kN/m.
The machine has got a soft-nip calendar that has a crucial role to play in improving paper quality. The machine will use a mix of 25% imported pulp and the remaining 75% will be obtained from captive pulp production. The machine is equipped
with an OptiFlo headbox and a 16-foot Yankee cylinder. It also features the Advantage tissue technologies AirCap and Hot Air system, and a SoftReel, along with the new ReDry technology, which is a novel way to recover energy from hood exhaust air to heat the web before drying.
As a leading player in the tissue paper industry, the company feels that it has a significant role to play in promoting the use of tissue paper for maintaining hygiene. CEO Jai Prakash Narayan feels that tissue paper needs to be spread across the consumer base by providing more affordable options to them that ensure the highest hygiene standards.
Century Pulp and Paper has taken this a step further by introducing an Economical Grade of 100% virgin tissue made from ECF pulp, which is chlorine and optical brightening agent free.
We, at Conferious, congratulate Century Pulp and Paper for this remarkable achievement and wish them luck to continue making strides in the industry, while doing their bit in building a sustainable future. Coniferous through its affiliates, passionately offers Century's Tissue Jumbo Rolls to the Middle East, South East Asia amongst other regions!