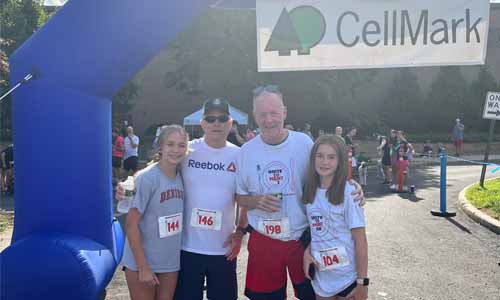 CellMark was pleased to be the lead sponsor of Filling in the Blanks Unite to Fight 5K that recently took place in New Canaan, Connecticut in the United States.
This was the fourth annual race hosted by the food charity Filling in the Blanks and an appreciated tradition that seeks to build community and raise funds to provide weekend meals for children facing food insecurity in local neighborhoods.
Beyond providing financial support to Filling in the Blanks, CellMark has packed weekend meal bags, organized employee events, and delivered food to students during COVID-19 school closures. This year, the 5K race generated $28,000 in raised funds, which will go directly to food insecure children.
Joe Hoffman, Division President of CellMark Paper, and Trevor Spain, Vice President of Sales also at CellMark Paper, participated in the race along with their daughters, Olivia and Katelyn. Joe Hoffman is happy that CellMark has chosen to support Filling in the Blanks:
"Filling in the Blanks is an amazing organization, and its mission aligns itself so well with CellMark's Guiding Principles. Giving back to those in need is a significant part of the CellMark culture. We do business in over 100 countries and feel it's very important to be helping those less fortunate. We are so proud to support the Filling in the Blanks team as their commitment to the community simply inspires us."