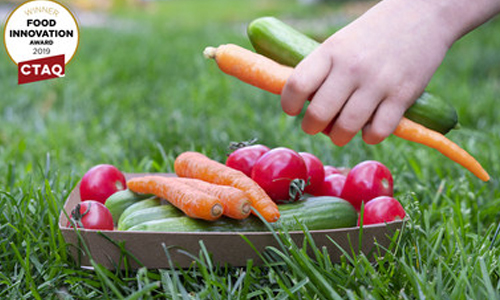 Cascades (TSX: CAS), a leader in eco-friendly recycling, hygiene and packaging solutions, is launching an innovative container for fresh food packaging on the North American market: a cardboard tray certified 1 according to Forest Stewardship Council® (FSC®) standards, made from 100% recycled fibres, mainly from post-consumer sources, and which is fully recyclable.
Committed to reducing its packaging footprint over the past 50 years or so, Cascades has developed this new tray using only recycled fibres, while making sure the cardboard is recyclable at the end of its life. The tray can be completely recycled thanks to the use of a water-based barrier coating that protects it against humidity and thus enhances packaging efficiency without negatively affecting the recyclability of the cardboard. This patented coating is a recyclable and compostable replacement solution for traditional wax- or plastic-based applications widely used in cardboard food packaging, where cardboard recyclability poses some challenges.
"This innovative product sits beautifully with our extensive line of efficient eco-friendly food packaging. Unique and current, this tray allows tons of fibres to be diverted from landfills. Together with our customers, we strive to make positive efforts to create a circular economy," affirmed Luc Langevin, President and Chief Operating Officer of Cascades Specialty Products Group.
This "made in Canada " packaging solution meets Food and Drug Administration (FDA) requirements. Its resistance to humidity and ability to maintain its rigid form when refrigerated make it a perfect solution for packaging fruits, vegetables and proteins. Its water-based barrier helps preserve the freshness of foods, thereby reducing food waste. The cardboard tray's natural appearance and eco-friendly design are the ideal vehicle to showcase its users' environmental values.