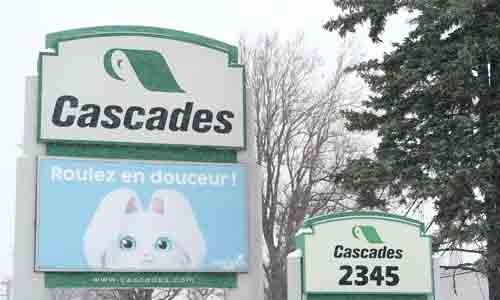 The Canadian Cascades  announces an important repositioning of its Tissue Papers platform to enhance the performance of the business. The Company will simplify operations by concentrating the majority of its tissue product operating activities at core, geographically well-positioned sites that offer opportunities for future development. These changes will reduce costs, create synergies and significantly improve the Tissue Group's financial, operational and environmental performance. This decision will not affect the level of service Cascades provides to its customers.
Beginning in July 2023, Cascades will progressively close its underperforming plants in Barnwell, South Carolina, and Scappoose, Oregon, as well as the virgin paper tissue machine at its St. Helens plant, also in Oregon. The equipment slated for closure, which have a combined total annual rated capacity of 92,000 short tons of tissue paper and 10 million cases of converted product, have been operating below capacity producing 56,000 short tons of tissue paper and 5 million cases of converted product in 2022, mostly on the West coast. A portion of this production will be absorbed by open capacity at other facilities and by the increase in productivity.  Cascades has the option to evaluate the possibility of redeploying the seven conversion lines impacted by this decision to other sites at a later date.
Closure costs, including severance, are expected to total approximately $20 to $25 million. Cascades will provide details about the impact of the announcement on its 2022-2024 Strategic Plan objectives in conjunction with the release of First Quarter 2023 financial results on May 11th.
Cascades will work closely with its 300 affected employees to mitigate the impact of this announcement. This will include, among other things, offering to relocate as many employees as possible to its other business units in the United States. Employees who cannot or do not wish to relocate to other plants will receive support in their search for other employment.
"With fewer sites, better resource allocation, and a strong business strategy, we believe this decision will position Cascades to create more value for its shareholders and customers. I'm convinced that the steps taken today will allow us to achieve our objectives for improving Tissue Group's performance", said Cascades President and CEO Mario Plourde.

"Today's announcement lays the groundwork for a simplified and sustainable production model that will better meet both our customers' and Cascades' long-term growth aspirations," said President and Chief operating officer of the Tissue Group, Jean-David Tardif. "This was not an easy decision to make, but it's the right one for the company's future. I'd like to extend my heartfelt thanks to our employees impacted by this decision, and I hope that many of them will be able to stay with the company."